Odds -n- Ends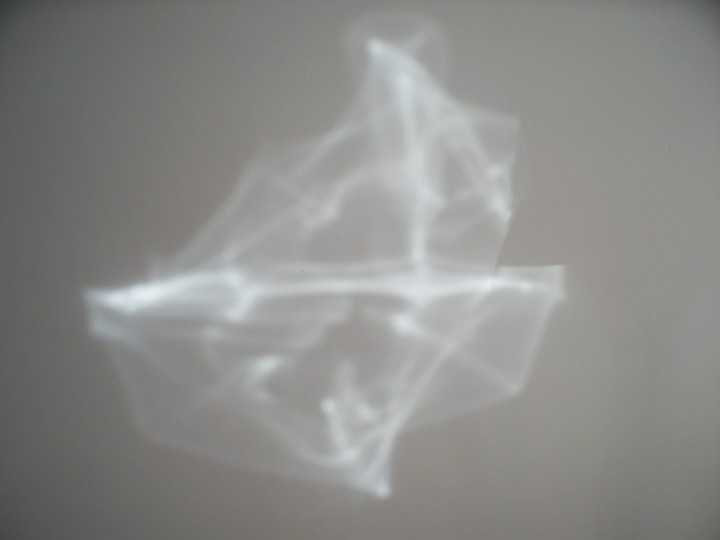 Interesting reflection off a book cover in the sun.
Muffins
A muffin by chance… Happy! Cool! At the beach?
Happy - Oct 19 2011 (1090K)
And then another… Oh noes! Chagrinned. Apply cold steak.
Sad - Nov 24 2011 (1033K)
Aliens
I thought this ginger was thrown away. Then she said, "Hey look at this!" She'd hid it in a teapot.
Alien S - Oct 7 2011 (1415K)
It does remind me of certain sci-fi movies.
Alien T - Oct 7 2011 (1424K)
Color Wheel
It isn't big enough to be worth its own project yet, but someday it may grow into something. I mean to (eventually) get some pictures of the various beans I grow, but as of yet my camera and light set up isn't good enough to capture the detail I am after. Until then this is the temporary parking spot for this picture.
Color Wheel - Feb 5 2014 (770K)
The colors on the wheel are acrylic paints taken from what I had on hand with no mixing. Starting from the color at noon (the very top) and going clockwise (to the right):
Reeves Yellow Ochre
Reeves Burnt Sienna
Reeves Light Green
Liquitex Chromium Oxide Green, Value 4.1
Reeves Phthalocyanine Green
Reeves Blue Lake
Liquitex Cerulean Blue
Reeves Phthalocyanine Blue
Utrecht Ultramarine Blue
Liquitex Dioxazine Purple
Reeves Crimson
Reeves Brilliant Red
Utrecht Napthol ITR Red Light
Utrecht Cadium Orange
Reeves Medium Yellow
Reeves Lemon Yellow
The E on the color wheel is a 1cm scale (with a halfway marked at 5mm). The next step is to get a reliable lighting source…
Garden Oddities
I'd never seen garlic scapes sprout and grow yet another scape before.
Garlic Top - Jul 21 2013 (778K)
Sometimes things happen and it doesn't work out. This pea plant had some kind of mutation where it lacked chlorophyll. Once it ran out of energy from the seed it withered away.
Fatal Mutation - Jun 15 2013 (809K)
When mixing organic materials (in this case wood chips) into the soil sometimes if you put too much carbon sources in and not enough nitrogen the soil community will consume the available nitrogen for a while before making it available again. As an example the plants on the left side of the picture were planted in a more carbon heavy layer - a month later they caught up and looked about the same.
NC Ratio Example - Jun 3 2013 (1389K)
A stem from a broken off bean plant that healed in an interesting way…
Kissy Face - Sep 7 2018 (621K)
Ferns starting to grow in the limestone mulch.
New Ferns - May 4 2019 (1437K)