Edibles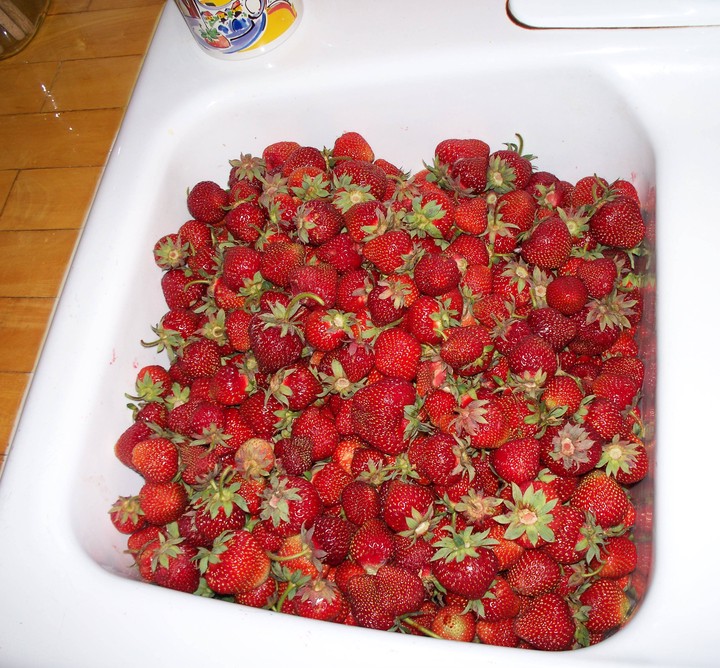 A batch of strawberries.
A few days before I'd made the following batch of freezer jam and shortly after I took this picture a small tornado came through and knocked the power out for several days. It is not often when you look out the window and realize the neighbor's garage is missing (do you notice how dark the background in that picture is for 3pm in June?) The freezer jam was edible, but it did not set up. Luckily I have a lot of strawberry plants and made another batch from the above berries.
Strawberry Freezer Jam - Jun 11 2014 (1547K)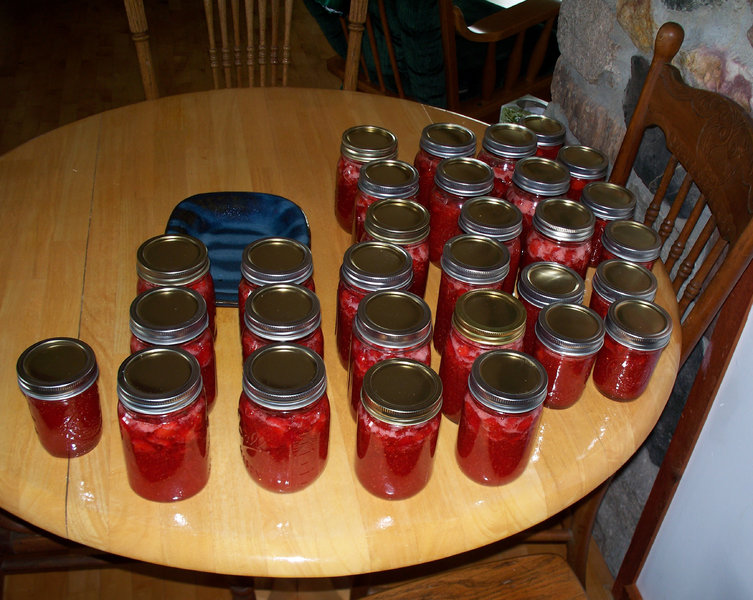 The squash did reasonably well this year. These are a few selected for their mix of colors.
Squash - Sep 24 2020 (1810K)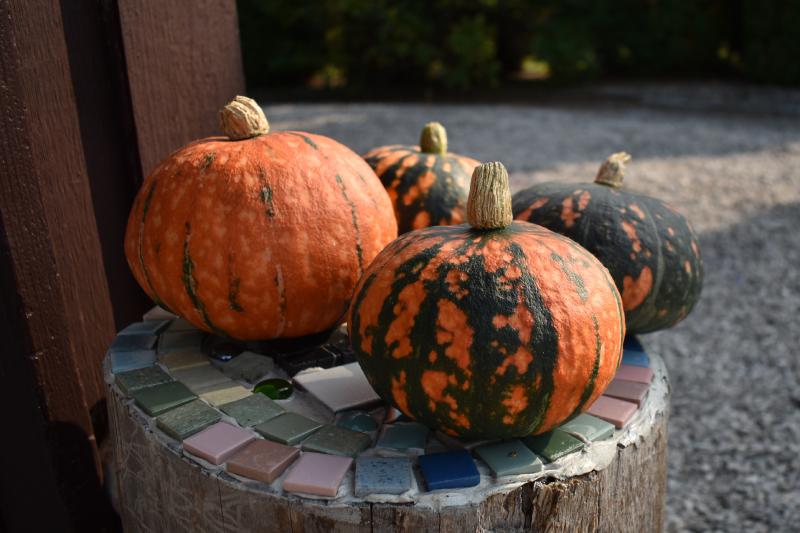 If these are babies I wonder what the adults are like!? The name was Baby Blue Hubbards. We had four total Hubbard squash from the plants. I selected the biggest and the smallest to pose.
Hubbard Squash - Sep 24 2020 (2126K)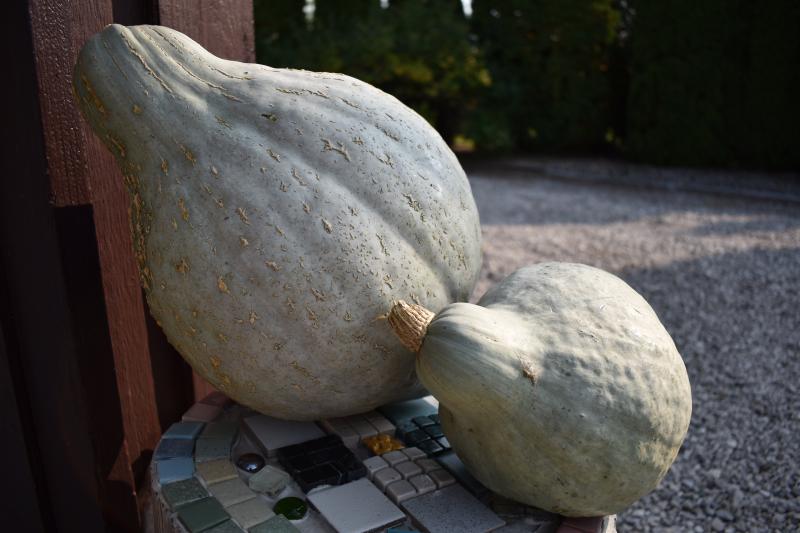 We haven't normally been growing melons but this year I wanted to try some a friend sent to me. How many can you find in this picture? (Hint four or more)…
Melons - Aug 11 2020 (2187K)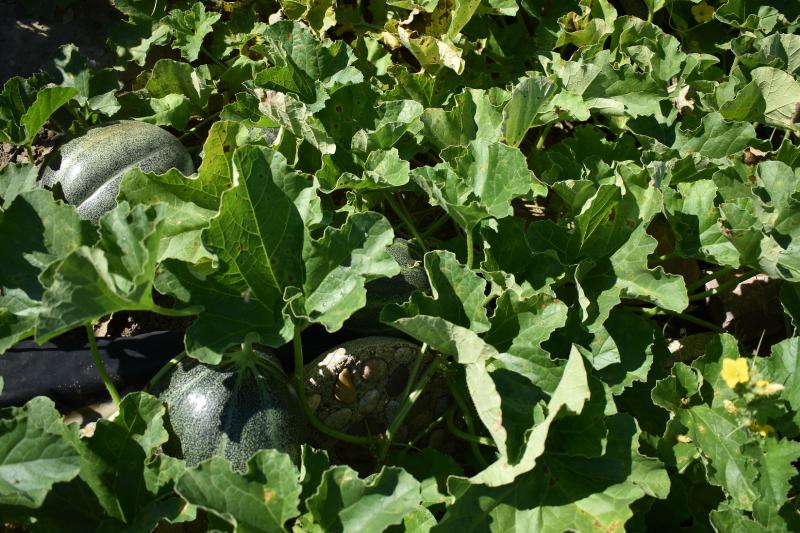 Fresh beans are close to my favorite eat in the garden snack - many won't even make it indoors.
Beans - Jul 19 2010 (1099K)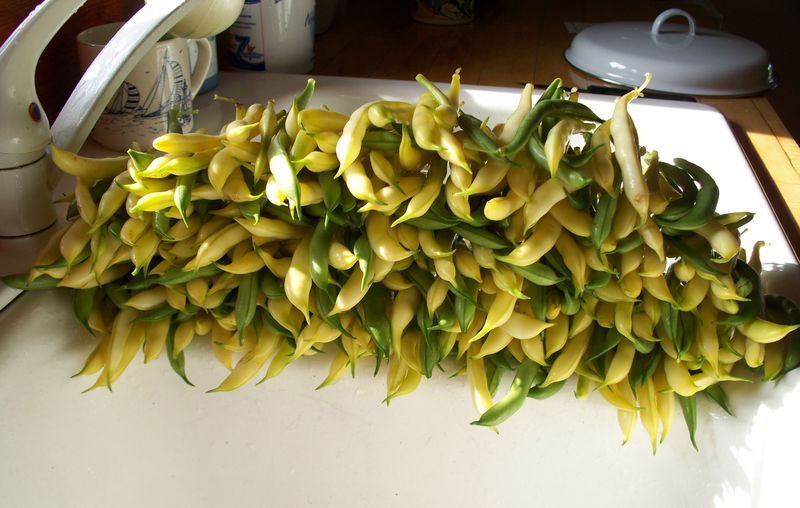 Bean salad is more work but very tasty.
Bean Salad - Jul 20 2010 (920K)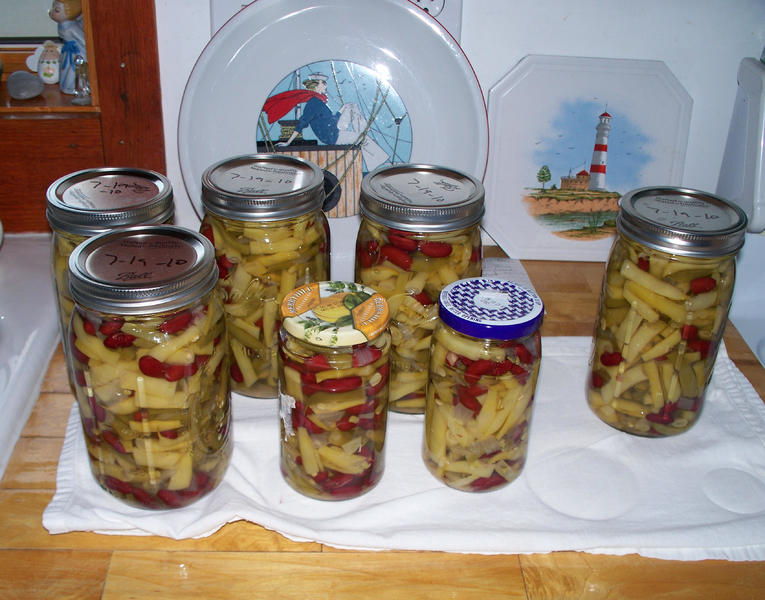 Garlic can be eaten in other forms besides the end of season dried bulbs sort. In this case it is harvested in the early summer and used much like a green onion and is very good. If you plan on using it this way plant it deeper than normal and that will give you a longer blanched stalk. If you cook it longer it tastes more like green onions. I tend to eat it as I'm weeding and thinning. It can be harvested as a green onion for quite some time (about up until the tops get scapes but will vary by type of garlic).
Green Garlic - May 3 2016 (1035K)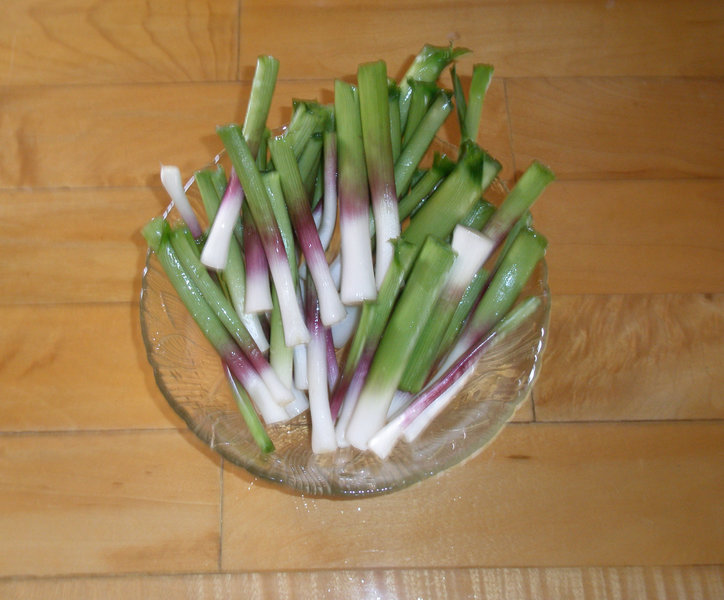 Lettuces and peas made a colorful combination.
Lettuces Peas - Jun 11 2011 (1743K)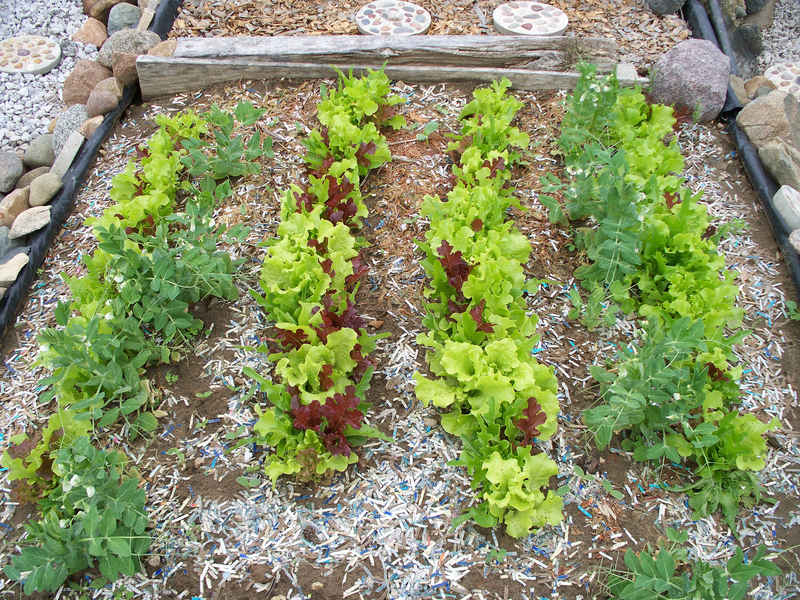 The kelsae sweet onions can get pretty big.
Onion - Sep 22 2009 (688K)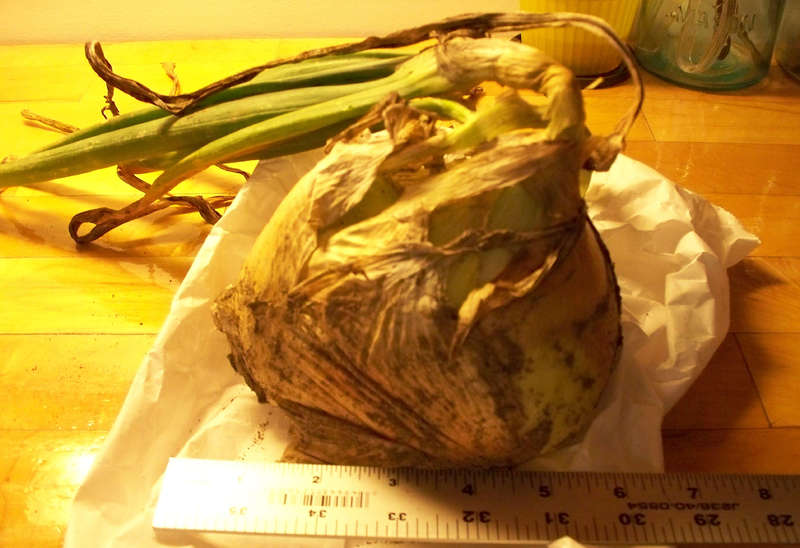 We made many quarts of pickles (both dill and bread and butter) the last few summers. They are about the easiest of all the produce to put up.
Pickles - Aug 16 2016 (812K)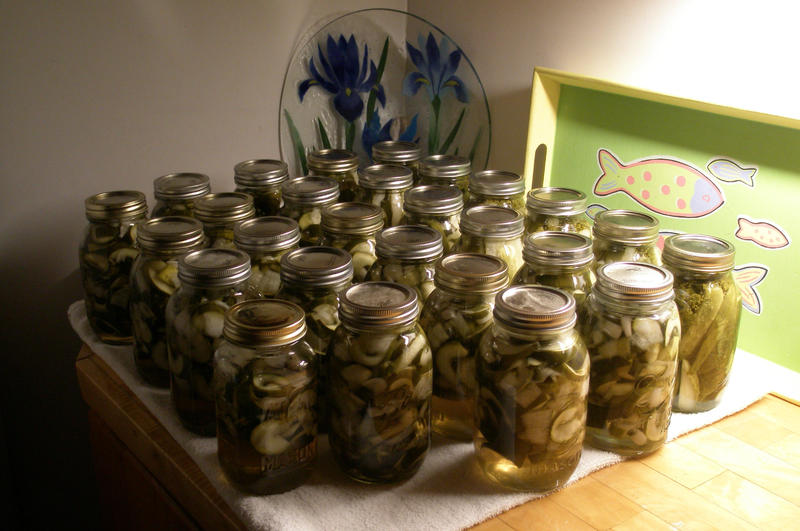 Dill Pickles - Jul 23 2016 (1266K)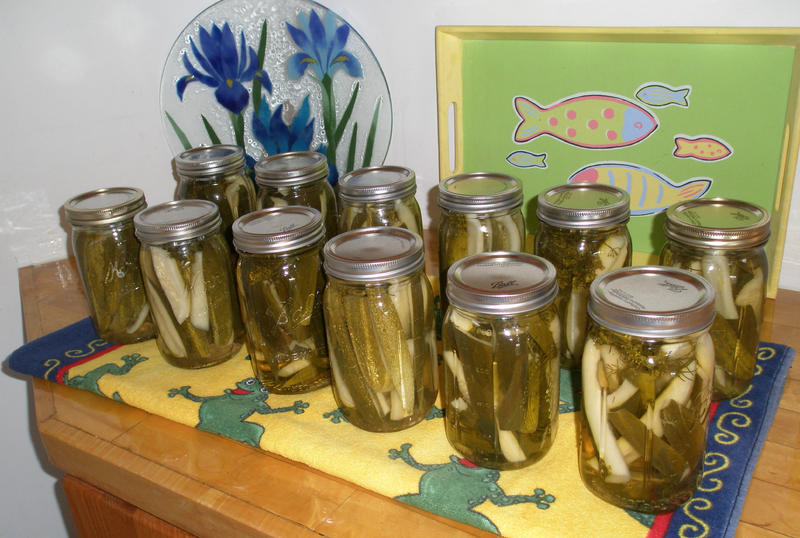 Rhubarb besides being edible makes a nice backdrop or edge planting.
Rhubarb - May 14 2014 (1561K)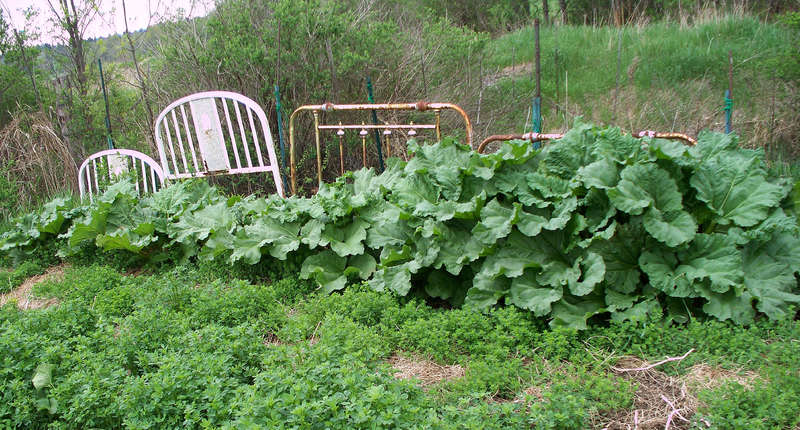 This was a strange tomato and very large (about 17cm across).
Tomato - Aug 30 2016 (770K)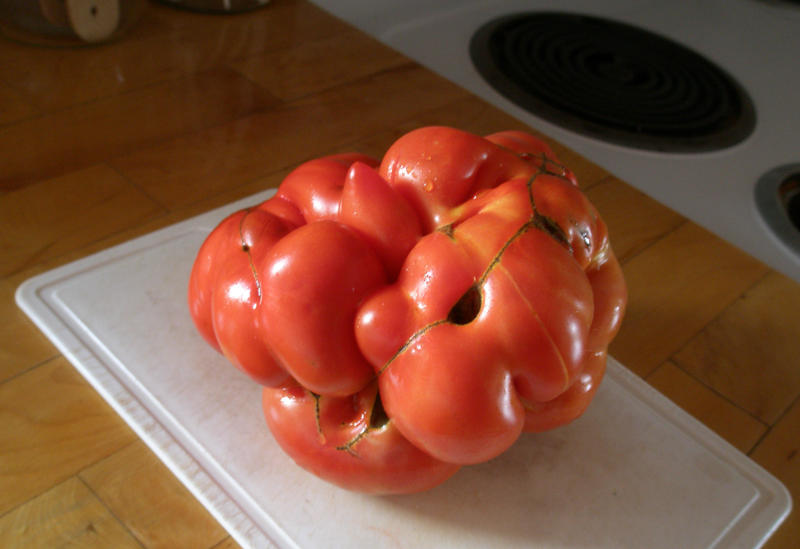 We've put up between 100 - 300 quarts of tomato chunks or tomato juice a year ever since we started growing vegetables.
Tomato - Aug 24 2011 (789K)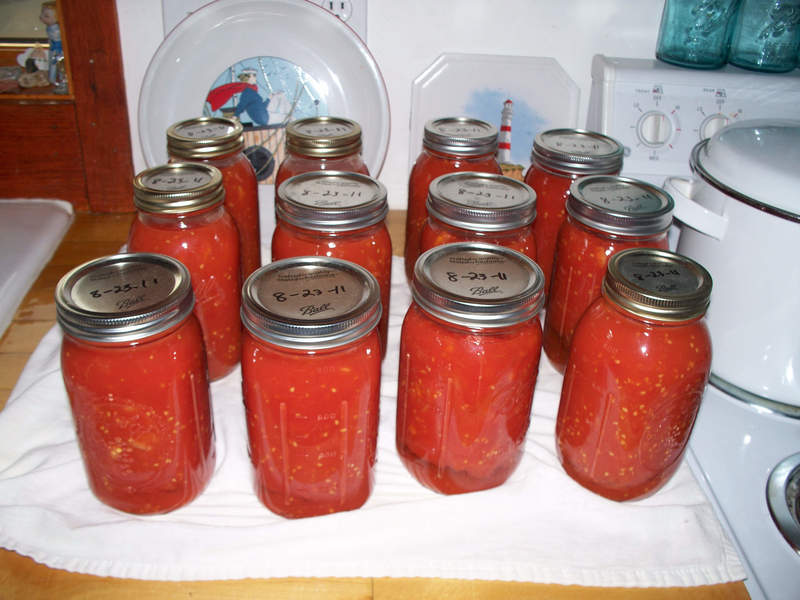 I often grow turnips as a cover crop, for the flowers and of course I'll eat some.
Turnips - May 23 2014 (1831K)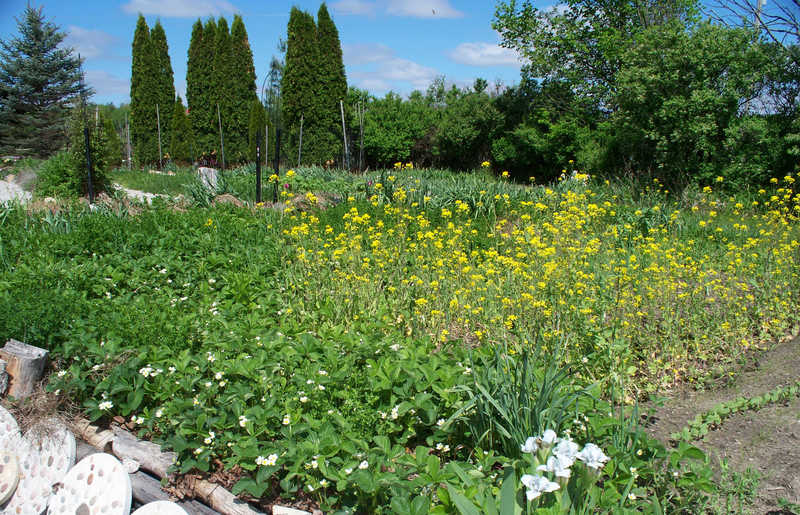 A nice batch of cucumbers that were turned into dill pickles.
Cucumbers - Jul 17 2018 (1350K)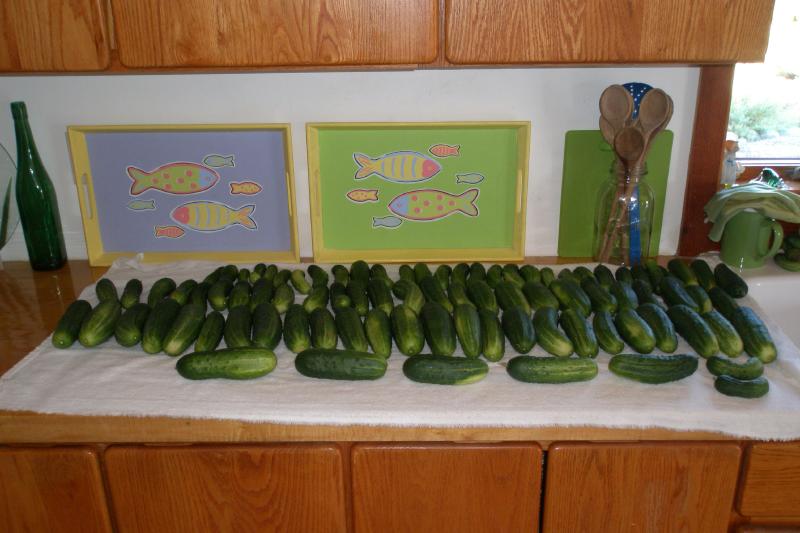 Some of the tomatoes from 2018.
Tomatoes - Aug 27 2018 (1394K)
Bunching Onions.
Bunching Onions - Sep 11 2018 (1698K)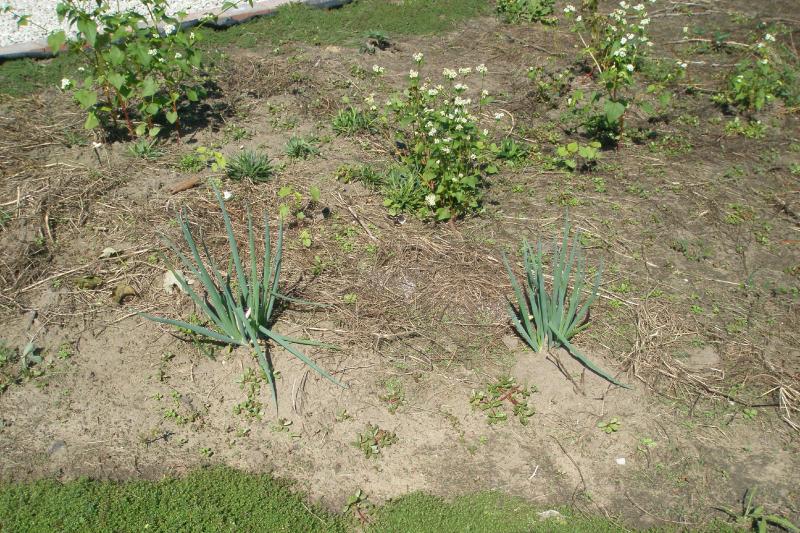 Squashed between a rock and a hard place.
Squashed - Sep 19 2018 (1419K)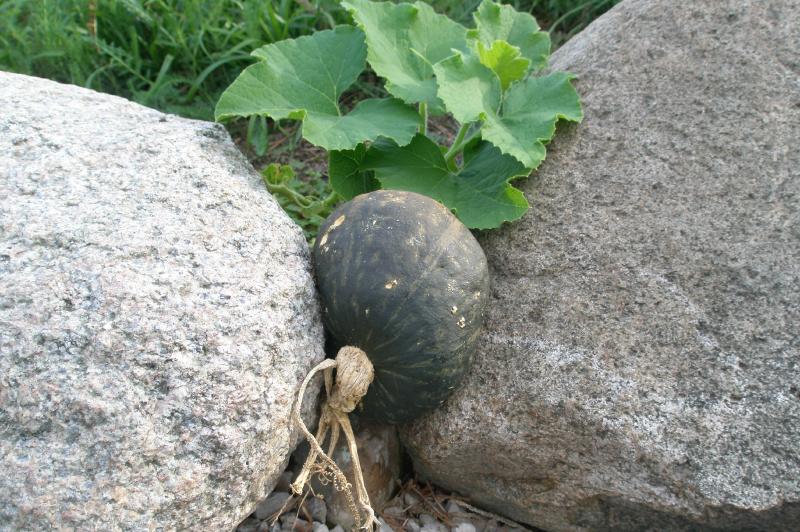 After many years of not much production from the strawberry patch it finally worked out for the 2020 season. All the hard work paid off. :)
Strawberries - Jun 14 2020 (2099K)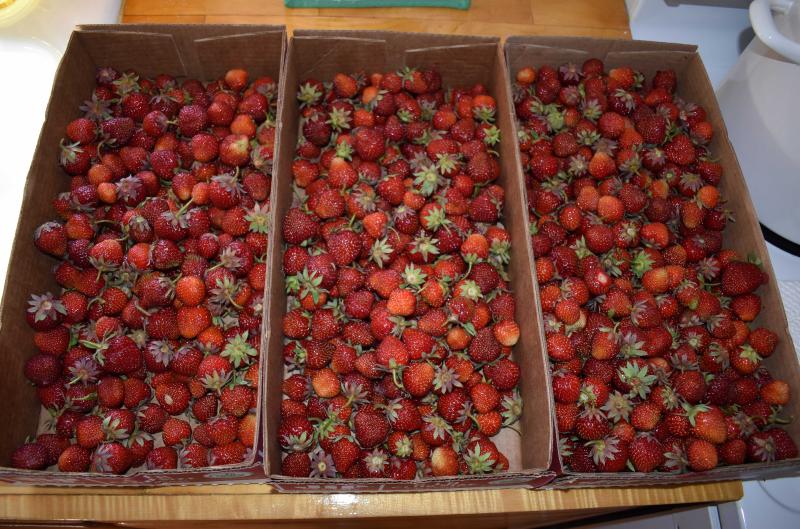 These are some really good pea pods, large, juicy, crunchy, not too sweet - it has been hard for me not to eat them all.
Large Pod Peas - Jul 8 2020 (3066K)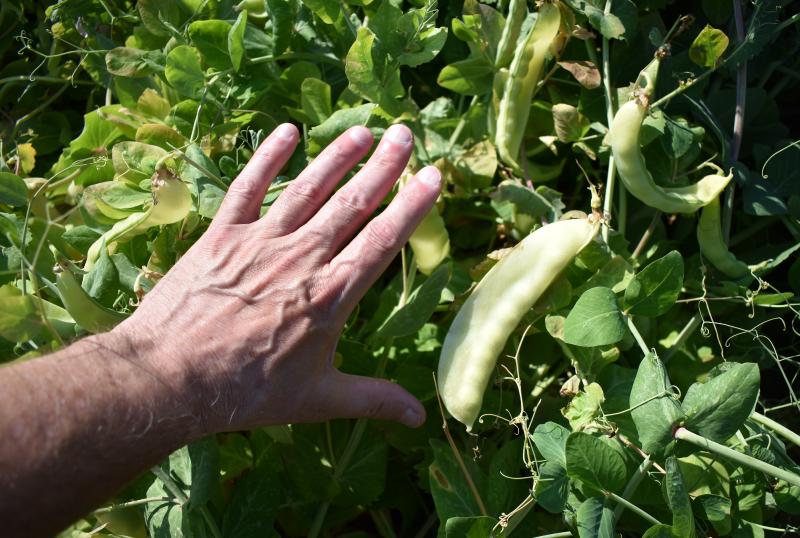 The garlic patch this season looks like it is doing ok. To the right of the larger plants are the small plants that I'll dig up and eat as green garlic.
Garlic Patch - Apr 10 2021 (4167K)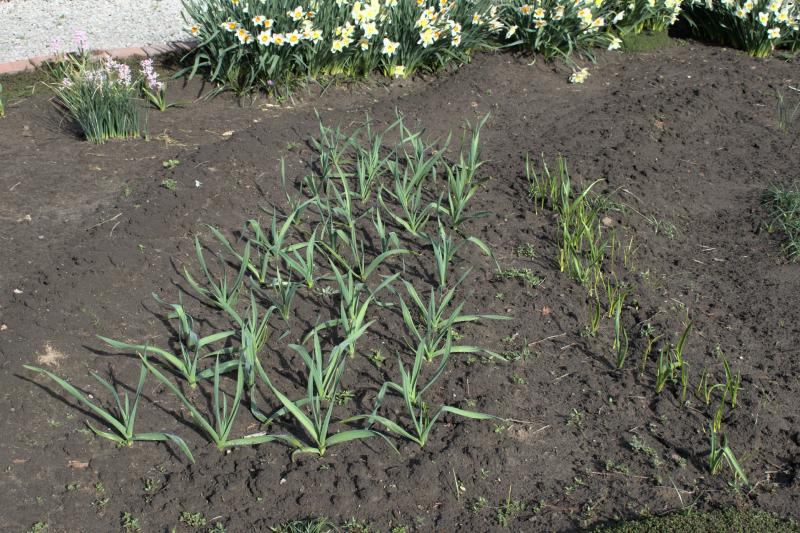 Further work is needed to get these mixed up peas segregated but the ones that have the larger pods are holding up against the heat more than I expected.
Tall Peas - Jul 3 2021 (3050K)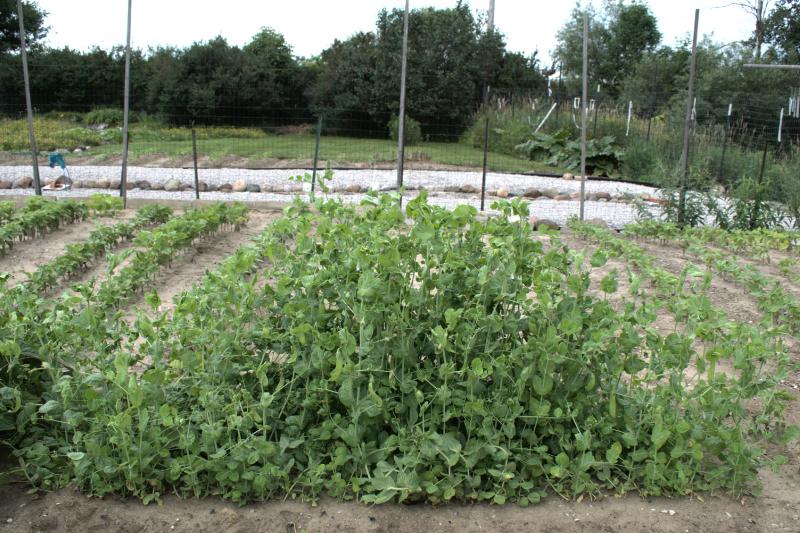 I like how they are standing up enough and able to support each other.
Lean On Me - Jul 3 2021 (4603K)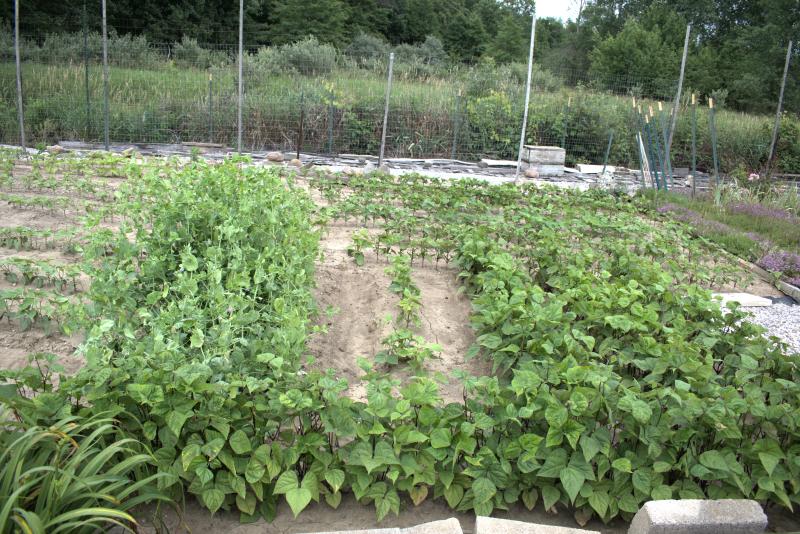 A large squash from this fall.
Large Squash - Sep 17 2021 (3410K)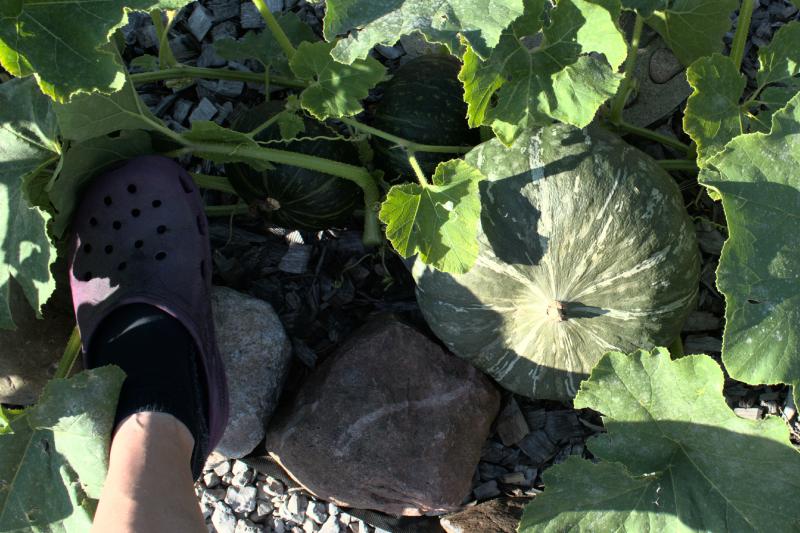 Squash harvest 2021 on the table.
Squash Table - Oct 6 2021 (3900K)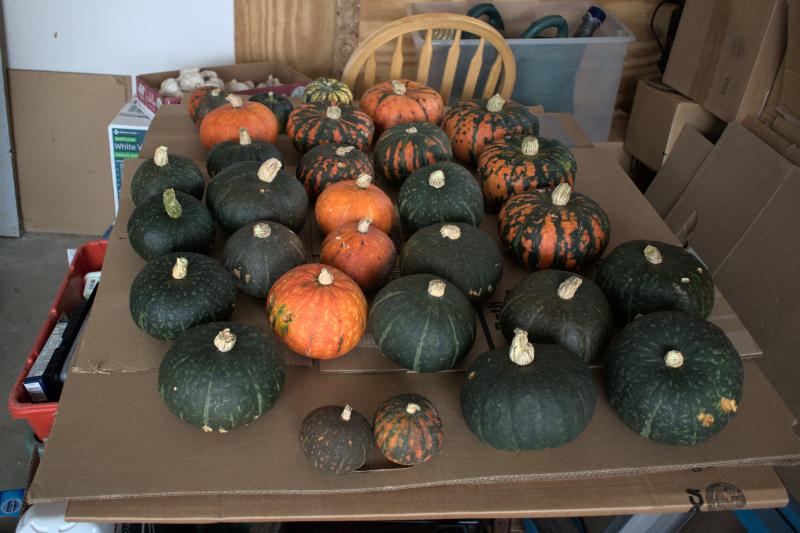 Squash harvest 2021 on the floor in front of the table. Now you can really see how big those squash were in comparison to the others.
Squash Floor - Oct 6 2021 (3887K)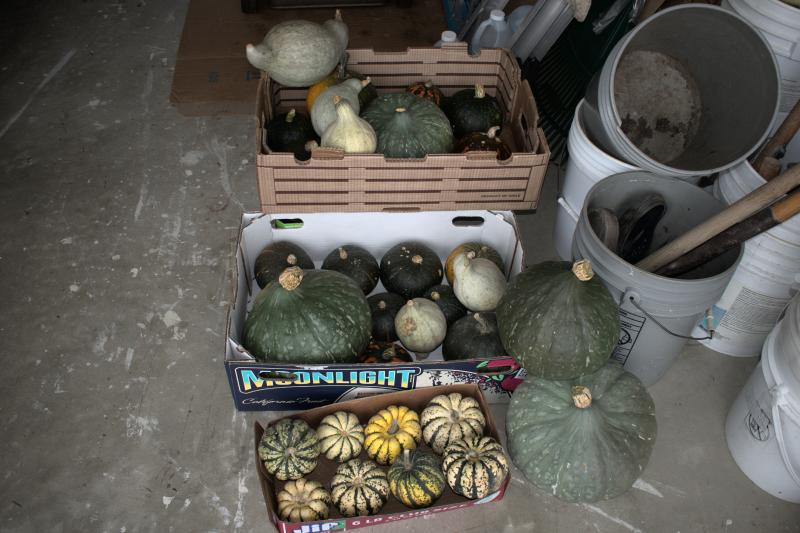 Tomatoes are coming along pretty well this year.
Tomato Patch - Jul 29 2022 (3595K)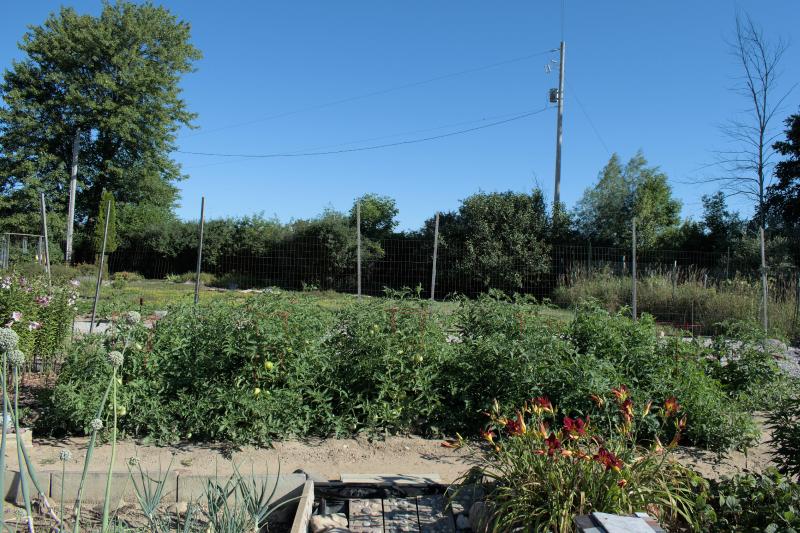 A batch of tomato chunks.
Tomato Chunks - Aug 29 2022 (3434K)