Mixed Flowers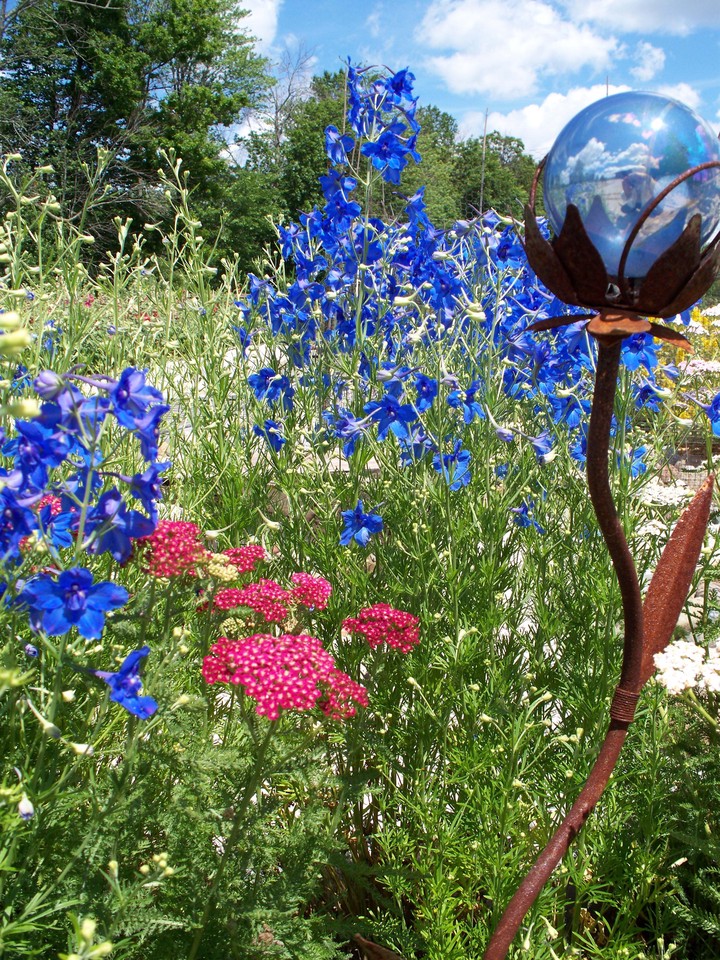 The above picture is the first picture that I really liked - if you look closely in the glass ball you'll see my reflection. Jun 30, 2008.
This project space is a catch-all to gather single flower or larger garden pictures that don't yet warrant their own separate project. In reverse chronological order…
2023:
A huge field of these would be nice to see. I started with 30 tiny bits of tubers. Be careful with these as they can be toxic, but the bees love them in the spring.
Happy Spring - Apr 15 2023 (3877)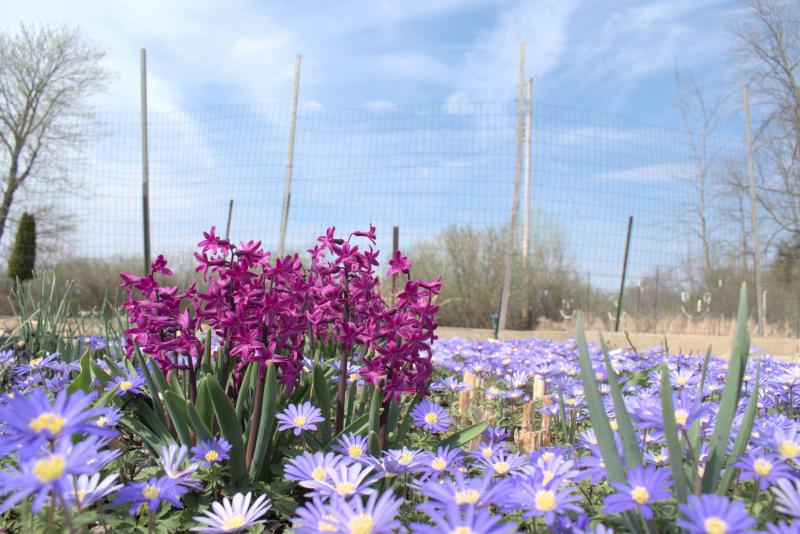 The intense blue of these is what I hoped for, the white ones came along later.
Bee Food - Apr 15 2023 (2519)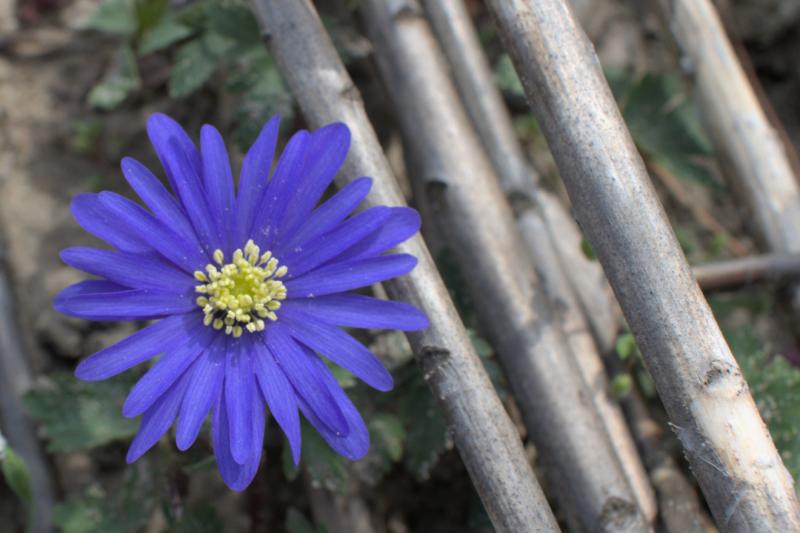 Amaryllis waking up for the warmer season.
Amaryllis - Mar 29 2023 (3244)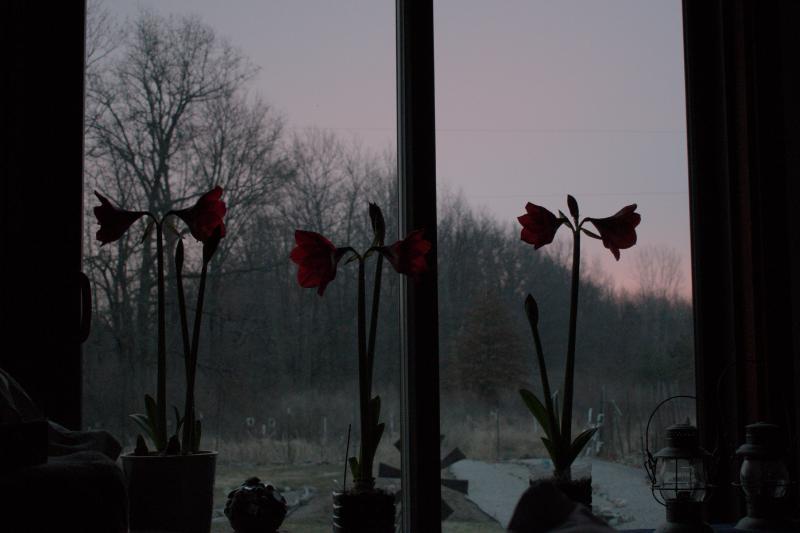 2022:
The deer have munched on most of these this year.
Red Lucifer - Aug 18 2022 (3212K)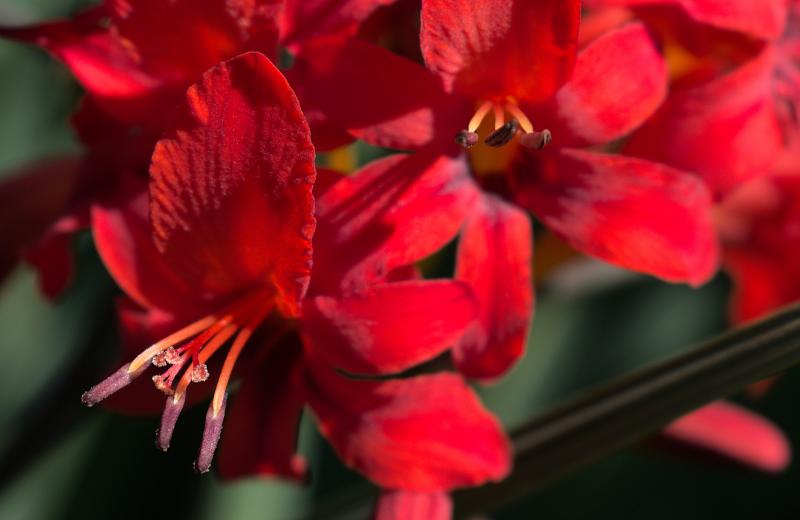 I've not been able to get any good pictures of the lilacs the previous few years because of frosts damaging the blooms. This year I was able to get some early pictures before all the blooms opened and I'm glad I did because when I tried again a few days later the blooms were damaged again so this picture will have to do.
Lilacs - May 19 2022 (3481K)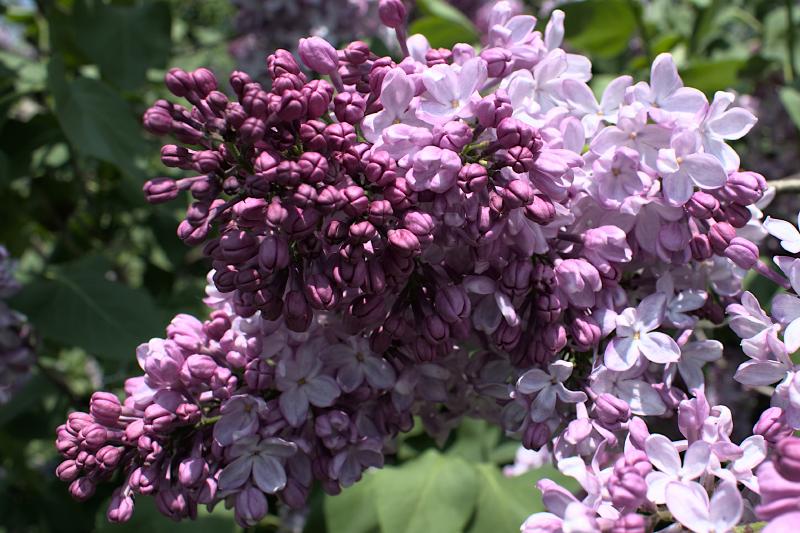 2020:
It is a toss up which flowers will be first, some years the small blue irises are first and other times it is the crocuses. This year it was the blue irises, which are always beautiful to see.
First Flowers - Mar 15 2020 (2344K)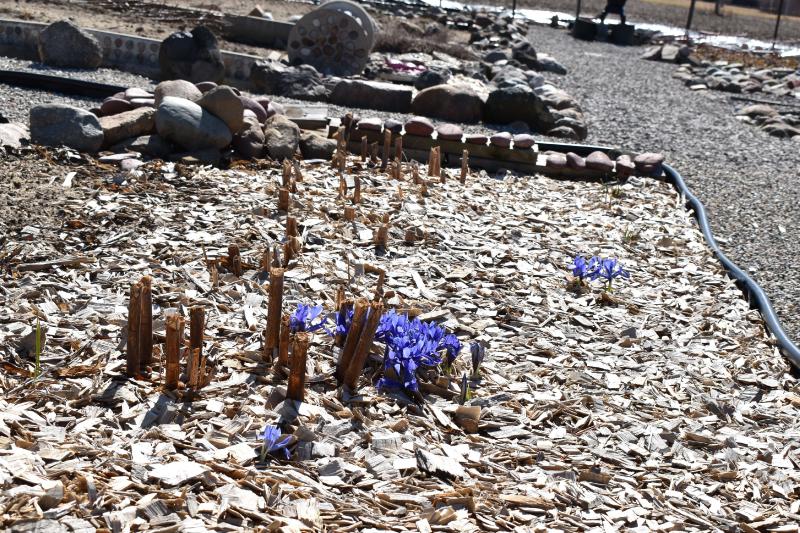 This purple hyacinth caught my eye because of the extra shades of blue. I'm not sure which picture I like better.
Purple Hyacinth - Apr 12 2020 (1322K)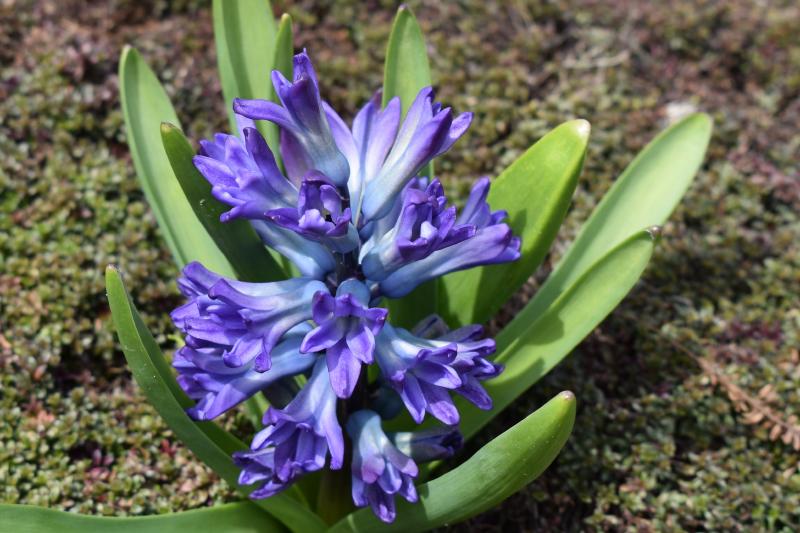 Purple Hyacinth Closer - Apr 12 2020 (1381K)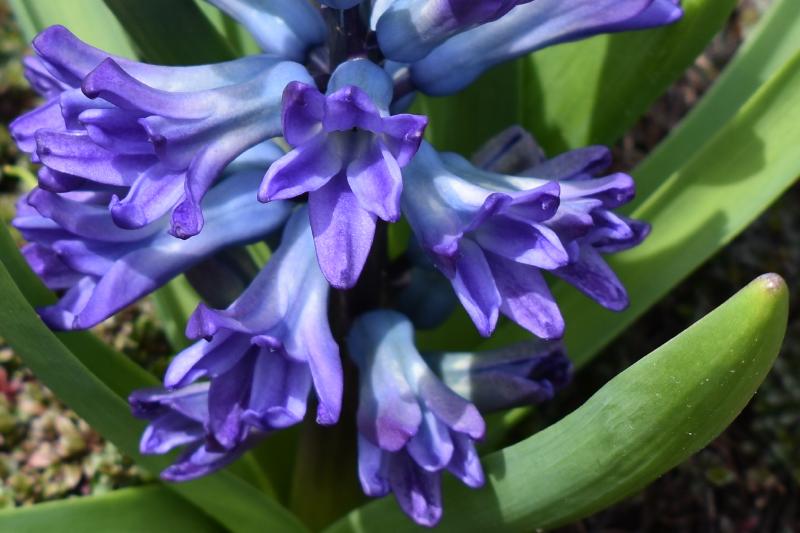 The strawberry patch filled in very nicely from last year's replanting. This spring the weather was cool longer and we did have a late series of cold nights and even some frosts which kept the plants from blooming too early. I don't want to count the berries before they finish but I sure do love to see the flowers.
Strawberries Blooming - May 24 2020 (2469K)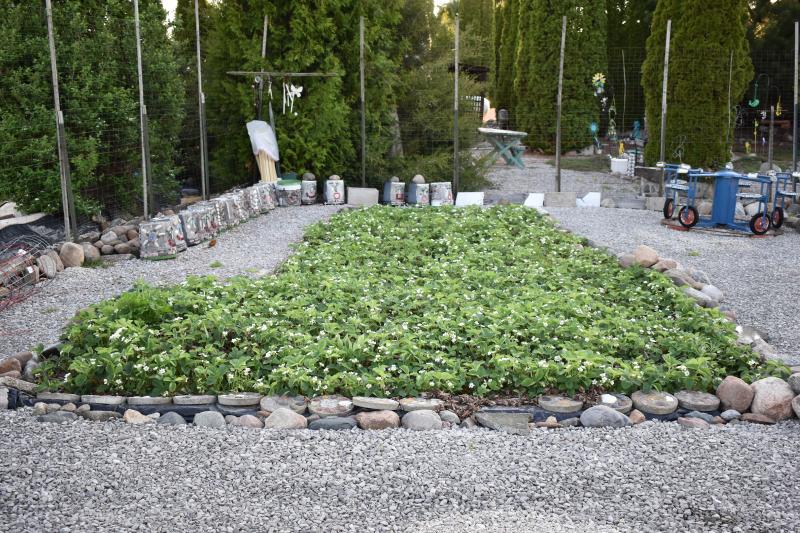 2019:
Not many pictures here yet, but eventually I should have a few. Most of the gardening season I didn't have a very workable camera or there weren't any pictures I did take that I liked.
2018:
A garden view of peppers, cucumbers, beans, onions, tomatoes, more beans, garlic, thyme, daylillies and of course rocks.
Garden View - Jul 18 2018 (1624K)
A garden view of beans, lillies and peppers.
Garden View - Jul 18 2018 (1596K)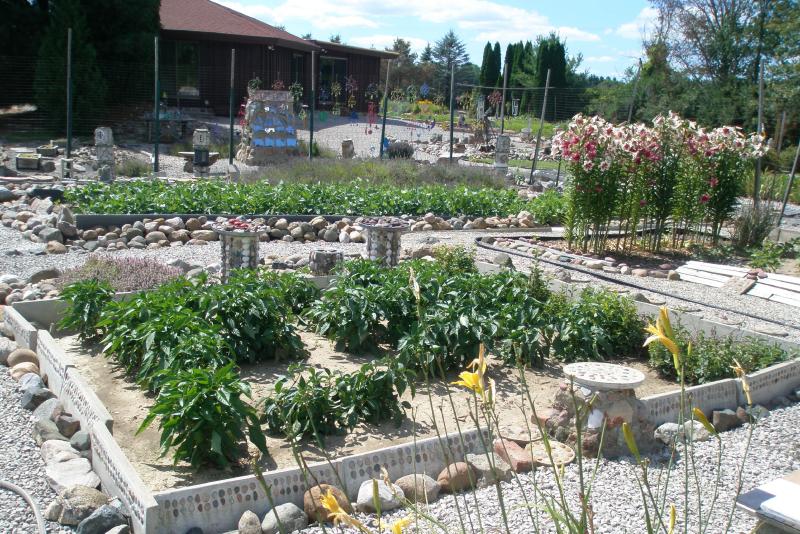 Purple and White Clematis.
Purple White Clematis - Jul 12 2018 (1519K)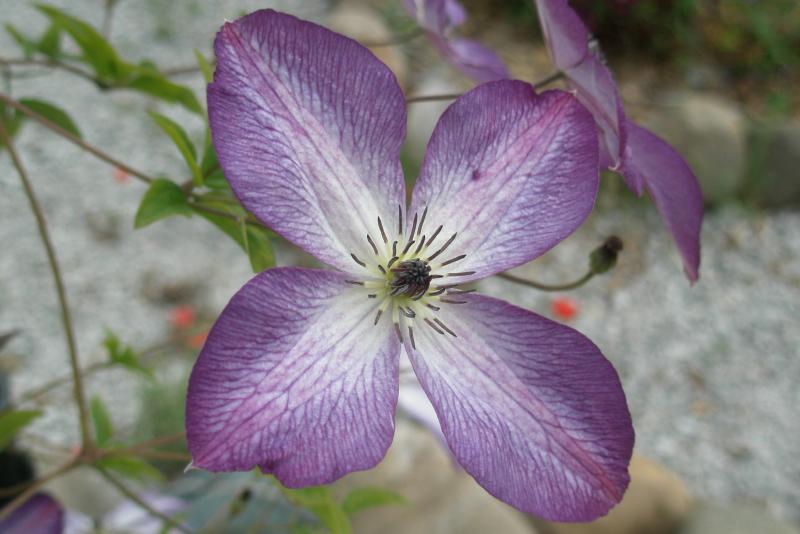 Pink Clematis. Might see the mite? :)
Pink Clematis - Jun 15 2018 (1493K)
Purple and White Clematis.
Purple White Clematis - Jun 15 2018 (1142K)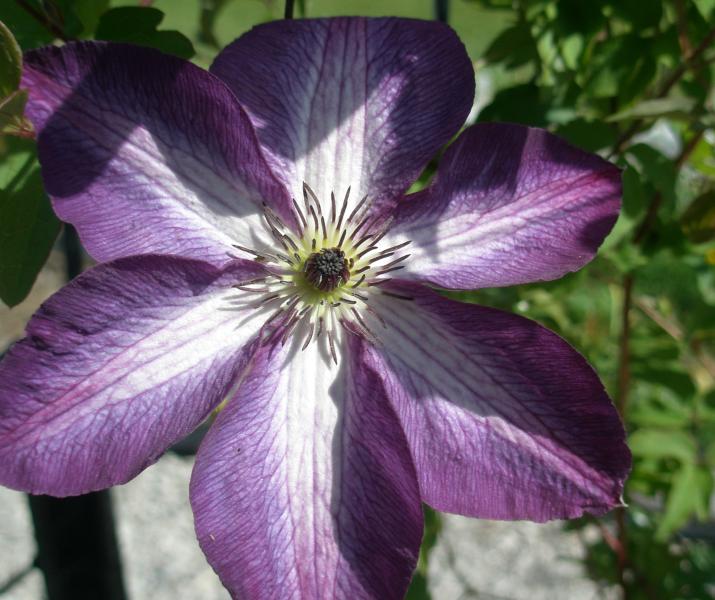 Rhubarb, the poles are 4ft tall.
Rhubarb - Jun 12 2018 (1353K)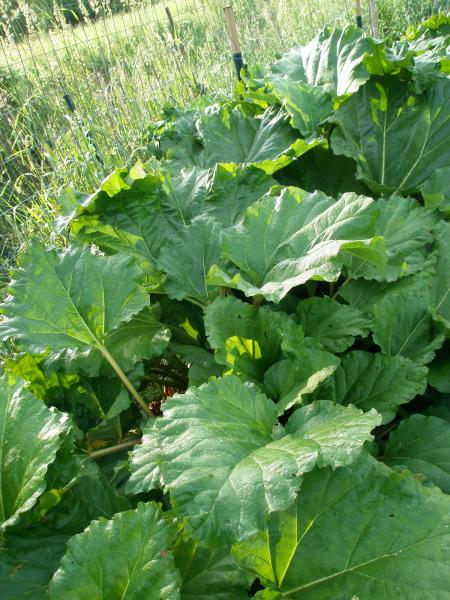 A bee and a flower. :)
Bee - May 2 2018 (1315K)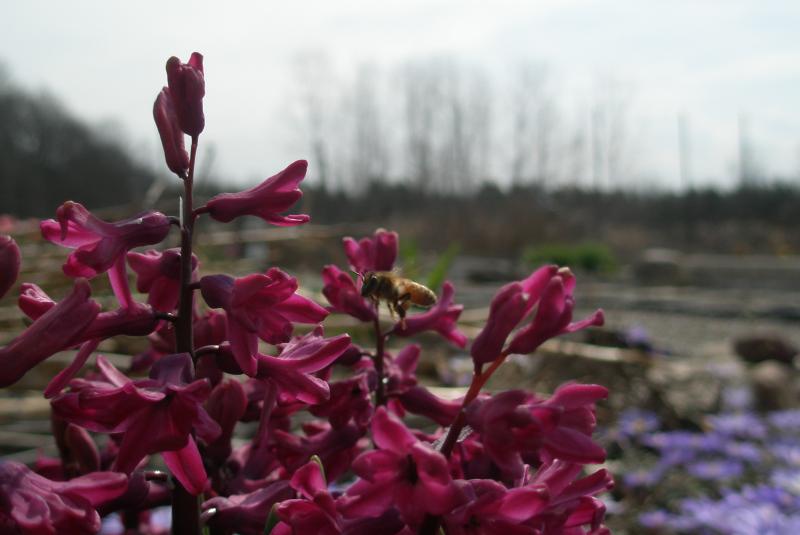 A beetle in a daffodil.
Beetle - May 2 2018 (1526K)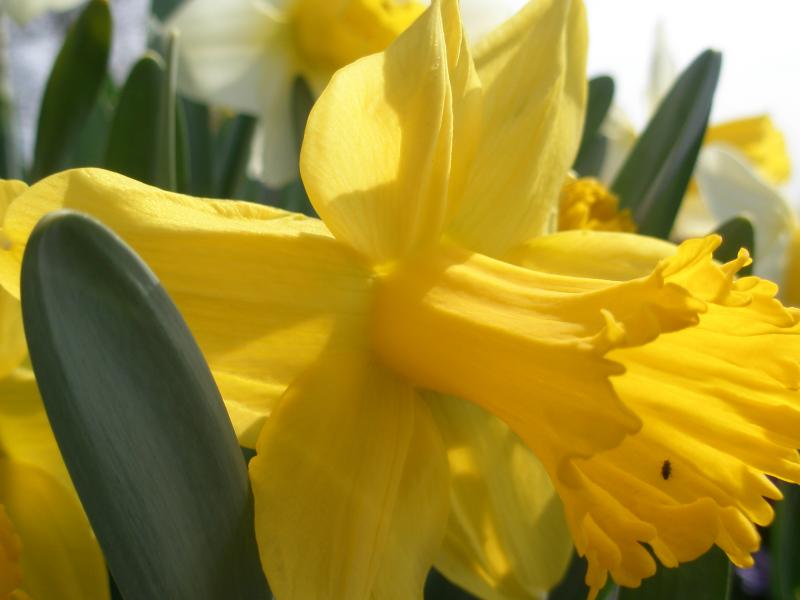 A flower circle in early spring.
Early Spring - Apr 13 2018 (1181K)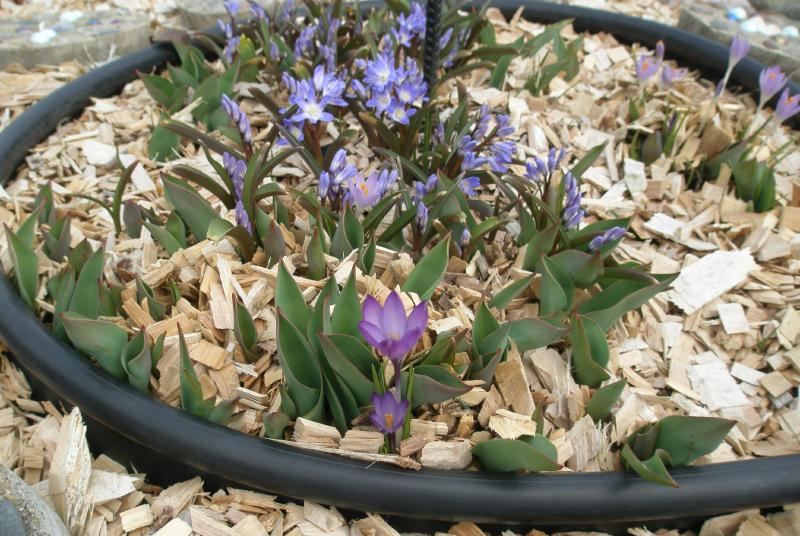 The early thyme has an interesting habit and slight purple color. One happens to have a hyacynth coming up through it and the wandering strawberries should recover from this winter eventually and will likely try to take over.
Early Spring - Apr 12 2018 (1584K)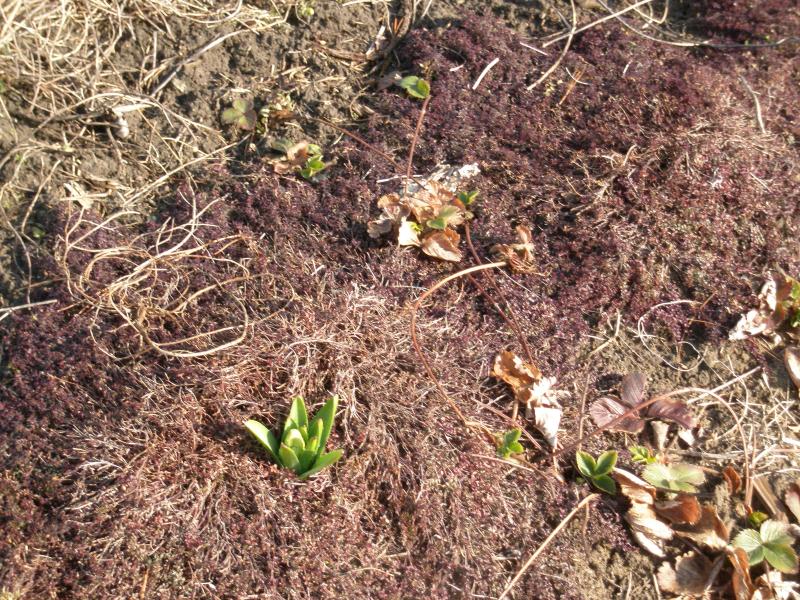 2017:
Squash vs. Thyme, who do you think wins?
Squash Thyme - Jul 29 2017 (1859K)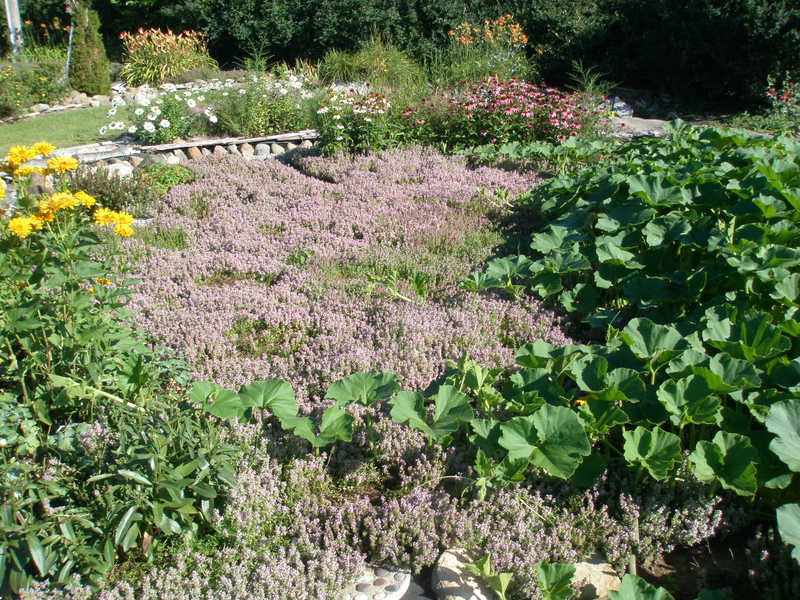 The cactus flowering out front…
Cactus Flower - Jul 1 2017 (1186K)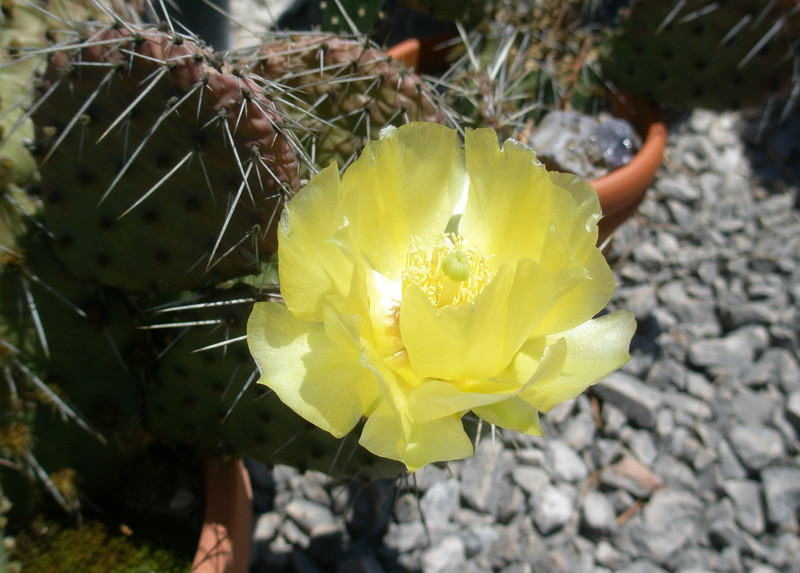 A white flowering ground cover plant which we first planted last fall.
Sandwort - May 30 2017 (1278K)
Some wild flowers from the nearby woodland park. I made no effort to hide the fact that I took three pictures, edited and combined them…
Spring Beauty - Apr 19 2017 (1026K)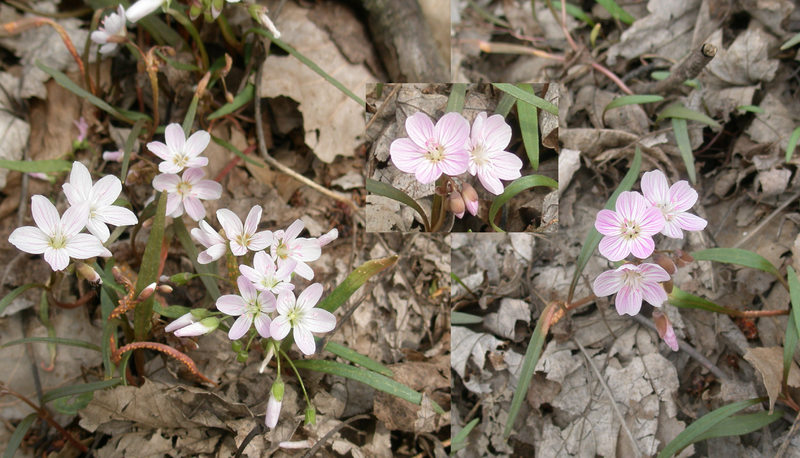 2016:
The early evening sun on the tree leaves as they get ready for winter…
Fall Color - Nov 3 2016 (1313K)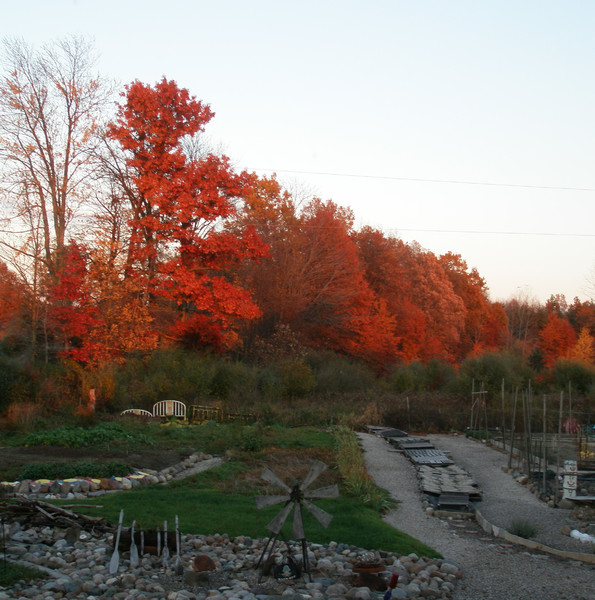 This garden has done very well since it was planted in 2010. I'm enjoying the blend of colors and also the transition from spring to summer as the lilies grow taller. I've also planted beans in there to grow around and up the lilies. Now it is getting thick enough with the daffodils that they should be thinned out.
Spring Mix - Apr 23 2016 (1317K)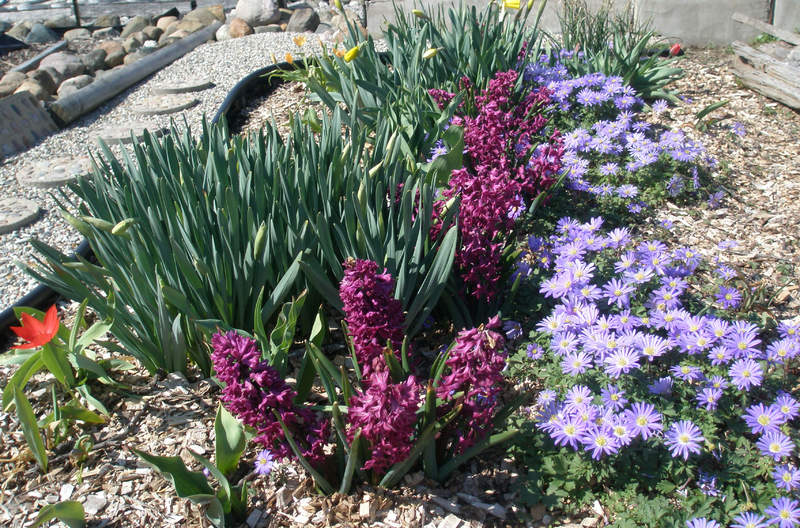 2015:
A year without a camera, eek!
2014:
A sign that spring is coming to and end for us when the lilacs bloom.
Purple Lilacs - May 25 2014 (1185K)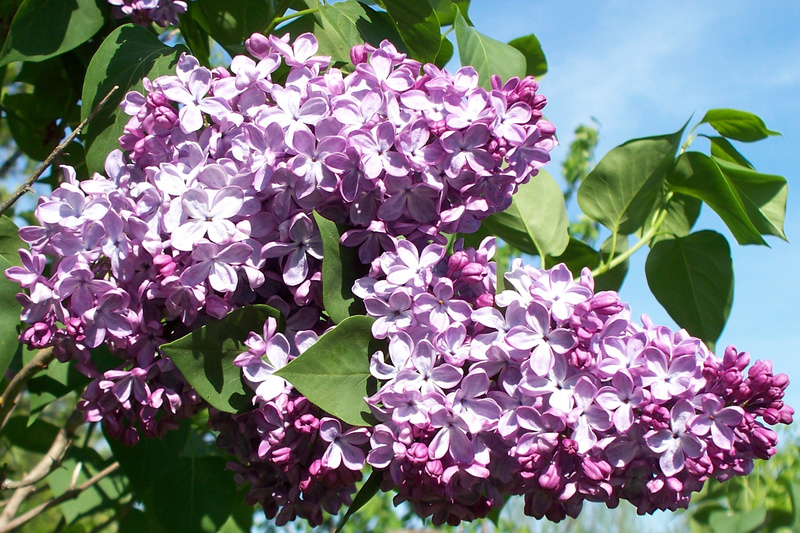 2013:
It is Michigan, while this may not be flowers it still speaks to me of the possibilities of the coming spring and the gems under the snow…
Sparkles from the snow - Dec 24 2013 (1722K)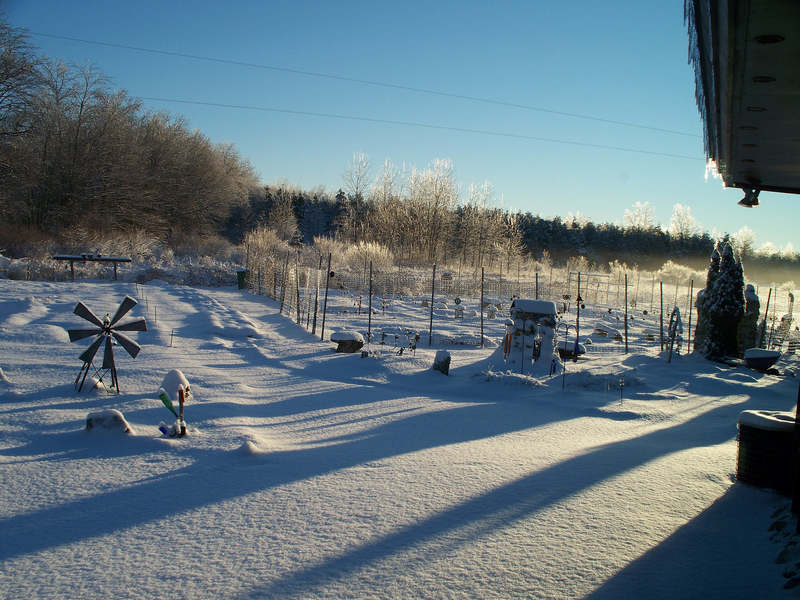 Red stems on a plant after the leaves and berries are gone.
Red Stems - Sep 18 2013 (809K)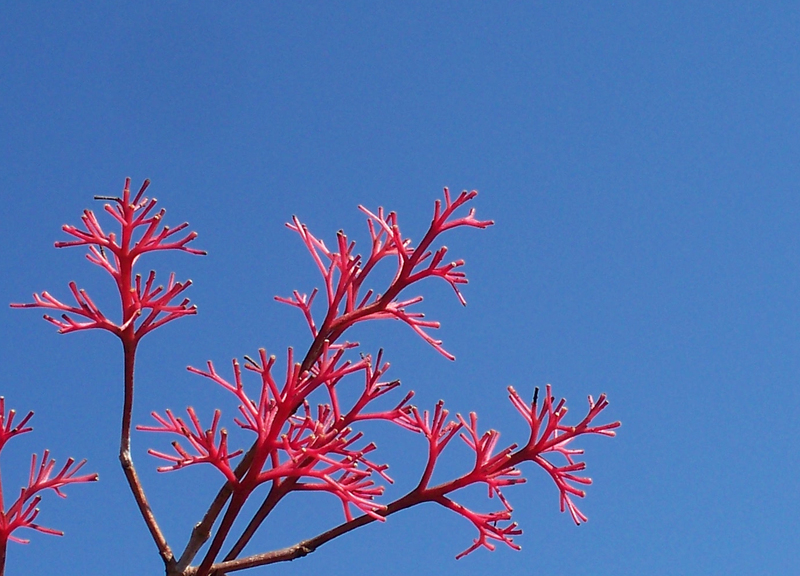 A taller variety of a pink and white lily plant.
Pink and White Lily - Jul 22 2013 (1154K)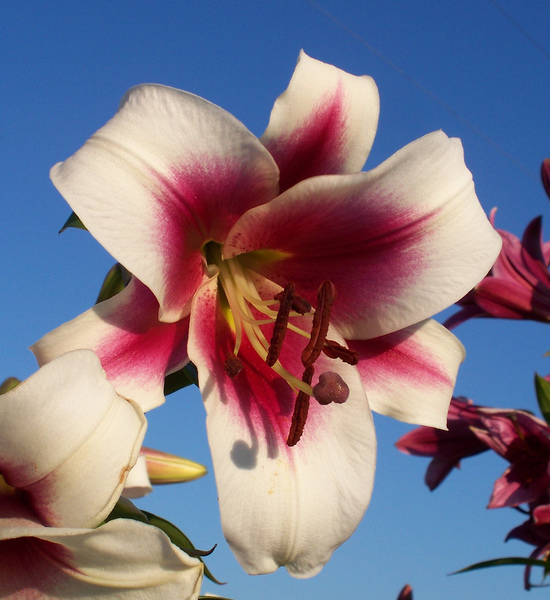 A taller variety of a purple lily plant.
Purple Lily - Jul 22 2013 (1577K)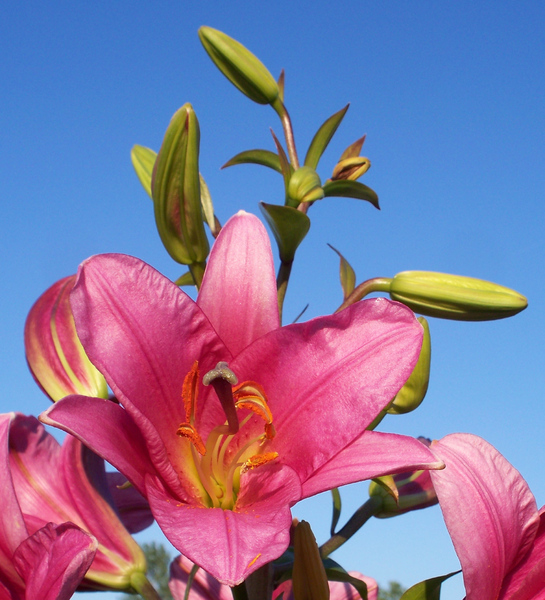 Moneywort aka Creeping Jenny aka Lysimachia nummularia is a nice ground cover for low wetter spots. Considered invasive it does need to be controlled and it also needs to be weeded a few times a season (the low spots collect weed seeds).
Creeping Jenny - Jun 18 2013 (1125K)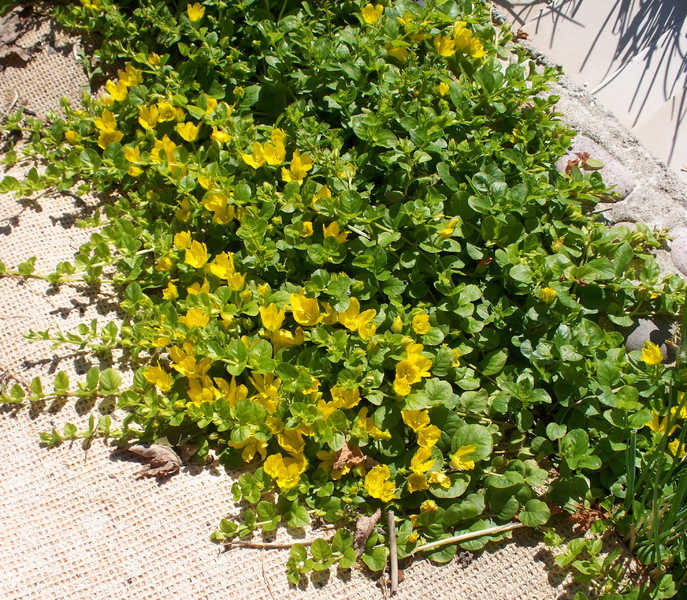 Don't plant the larger varieties of trefoil too close to an edge as it will easily droop over it and drop plenty of seeds. I've since started changing this edge so it is growing strawberries and other shorter plants.
Trefoil and Chives - Jun 11 2013 (1639K)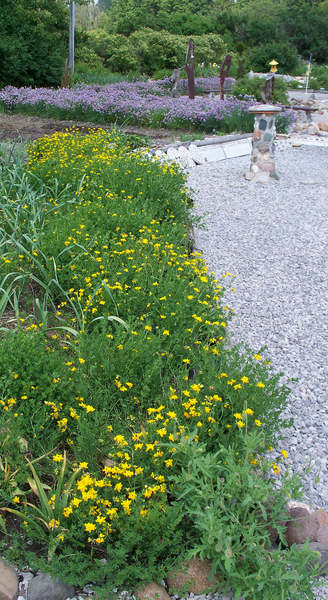 A very cute flower in the spring, they will drop a lot of seeds and spread but it may take several years to get them going.
Blanda - May 2 2013 (1442K)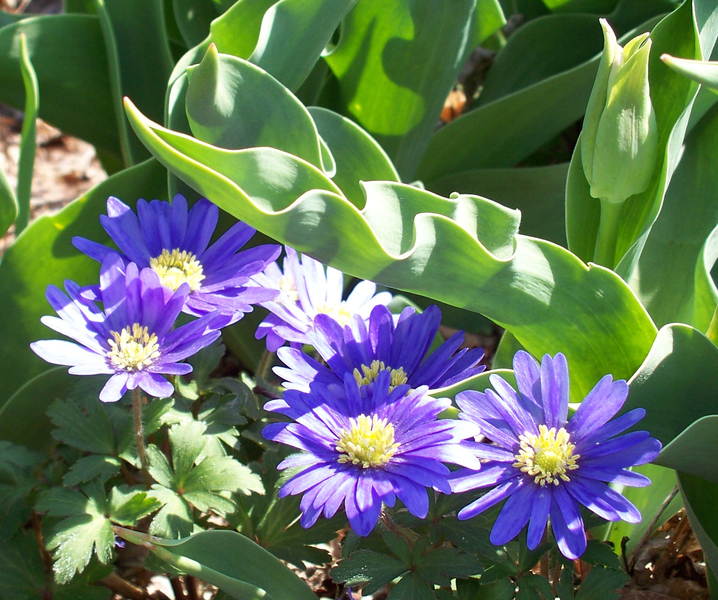 2012:
Another interesting picture for the imagination. Do you see him?
Thyme Alien Cowboy - Jun 6 2012 (1483K)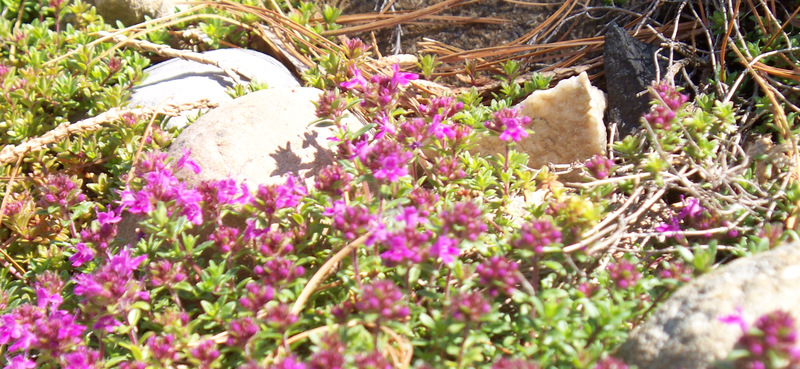 The blue allium and the hovering bug.
Blue Allium - Jun 6 2012 (1200K)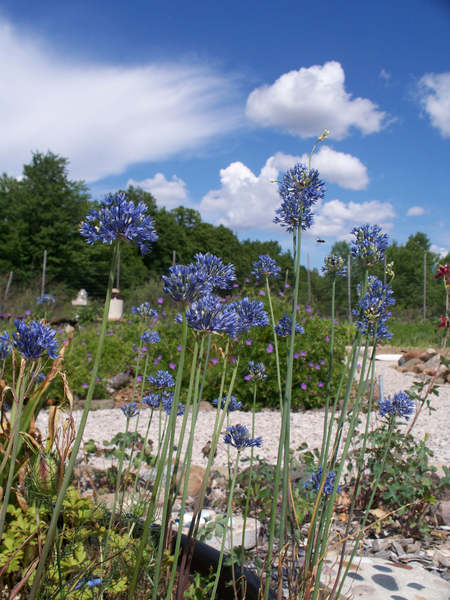 Such a bright blue, growing in rinsed crushed limestone and not much else.
Delphinium - Jun 6 2012 (1119K)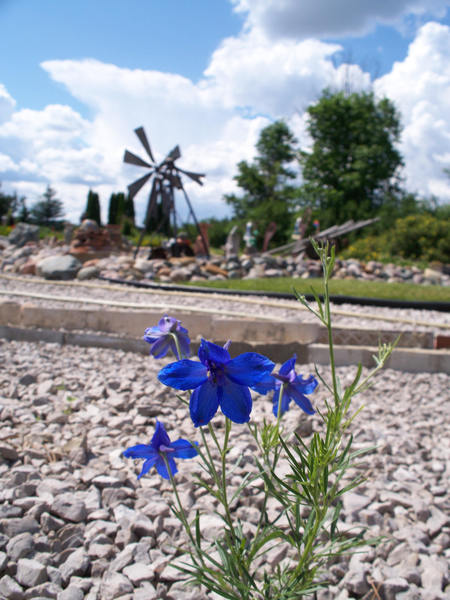 So very colorful.
Clematis - May 29 2012 (646K)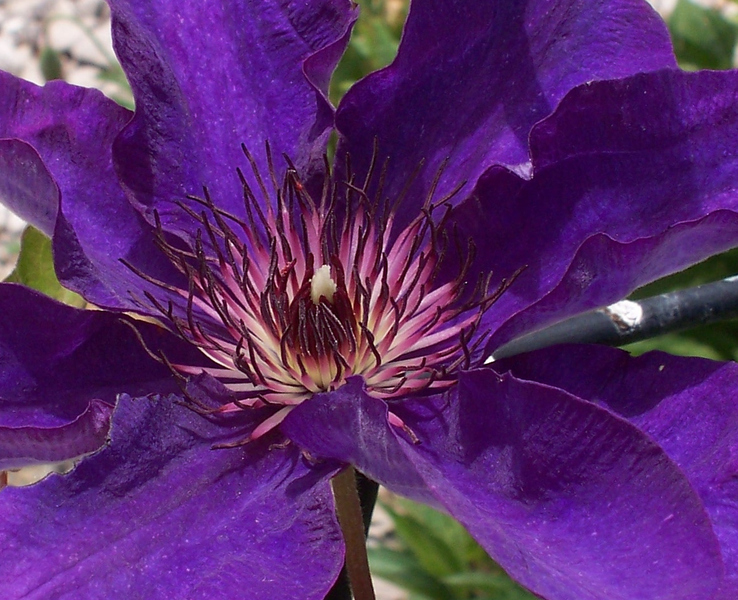 At one time we had a few chives…
Chives - May 16 2012 (1182K)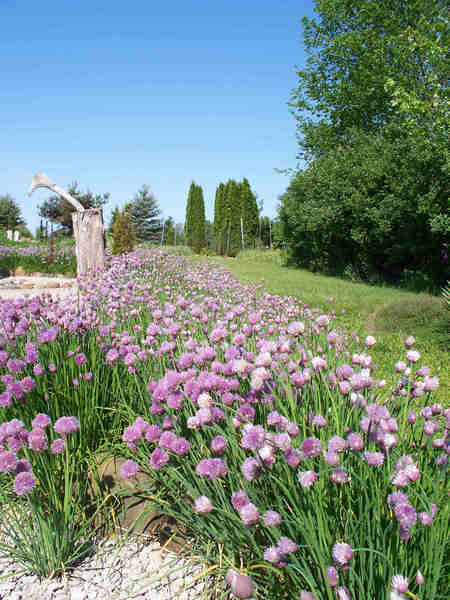 2011:
Birdsfoot trefoil is another useful plant, but it can spread easily and be difficult to remove yet I think it looks great in lawns too - it even blooms when kept trimmed. The wild version does better for use in lawns than the version you can get from the grain elevator (which is a taller and larger plant).
Birdsfoot Trefoil - Jun 16 2011 (701K)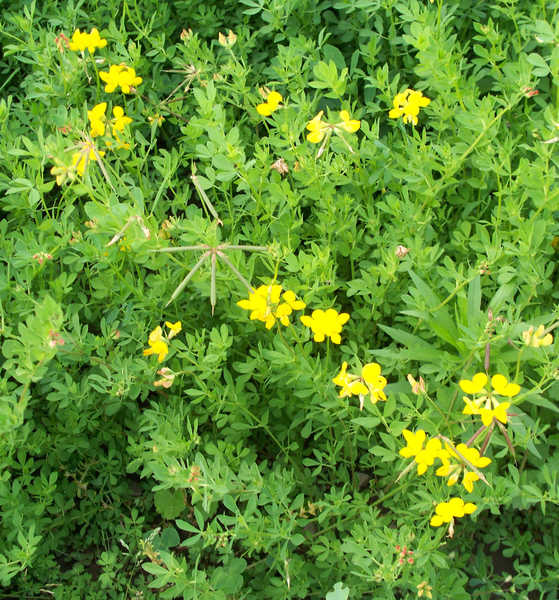 Calochortus venustus aka butterfly mariposa lily, native to California, but seems to be able to survive our winters here. Sold to me as a tulip… I guess it is a close enough relative from the lily family - I ordered red, and got white, can you guess how many orders I've made from that company since (0).
Butterfly Mariposa Lily - Jun 12 2011 (1044K)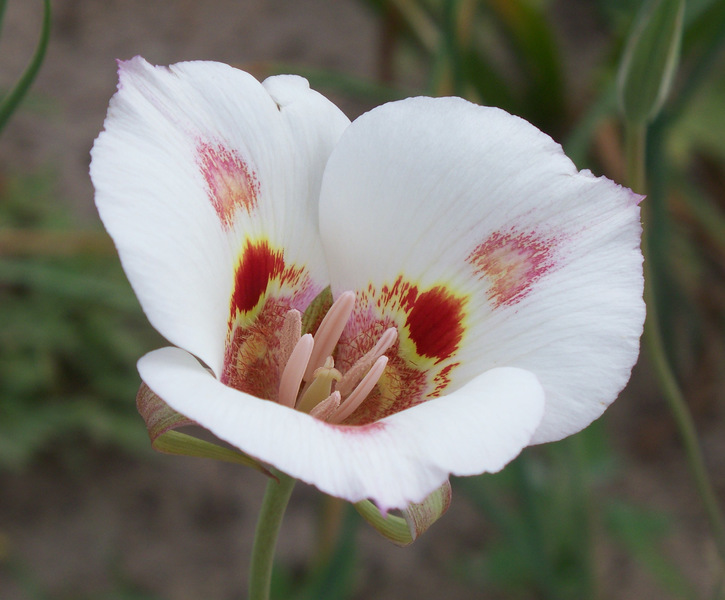 The main two plants in the spiral garden, birdsfoot trefoil and alfalfa, both plants are very good nitrogen fixers and this means that if you harvest the green growth you can use it as fertilizer for other plants (often called a green manure). It can be dried and then stored or used fresh - the worms will also love it. Sometimes I chop this area back which self-fertilizes the plants and then let it regrow that also helps the worm populations. In a good year this area can be chopped three or more times.
Trefoil and Alfalfa - Jun 12 2011 (1241K)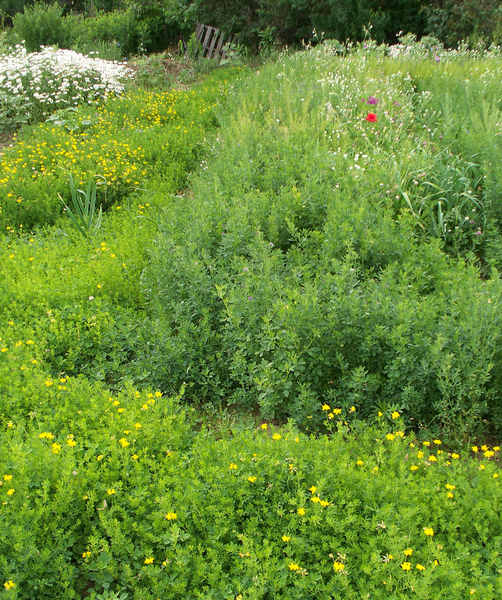 I've really enjoyed the yellow, orange and red cosmos over the years. These three grouped so nicely I couldn't help but think of those three comedians.
The more interesting gardens to me are those that serve multiple purposes. The spiral garden is one of them.
Spiral garden.
Yellow Spiral - May 16 2011 (442K)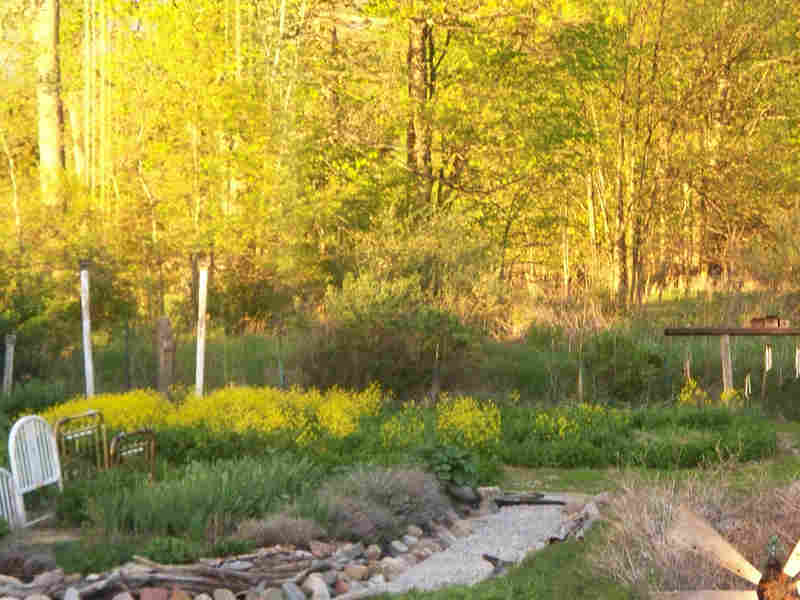 2010:
Cosmos - Aug 10 2010 (1103K)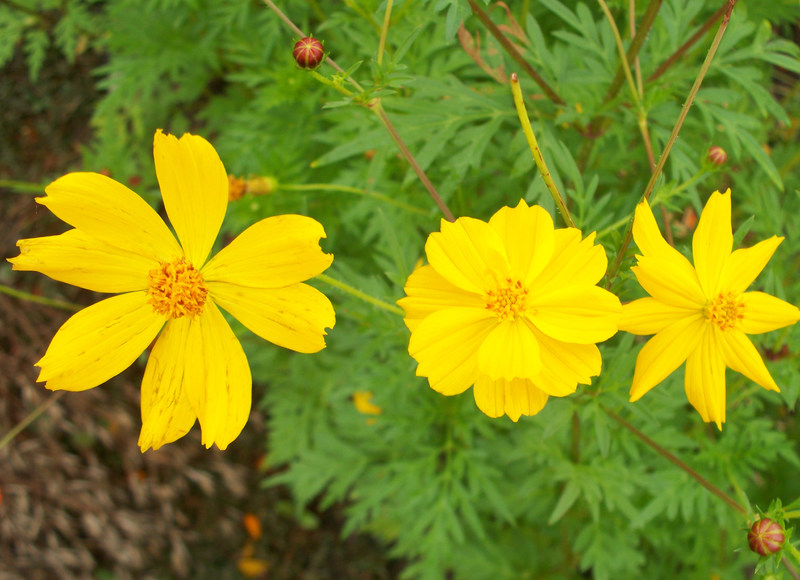 Buckwheat is a very useful plant.
Buckwheat - Jul 18 2010 (1507K)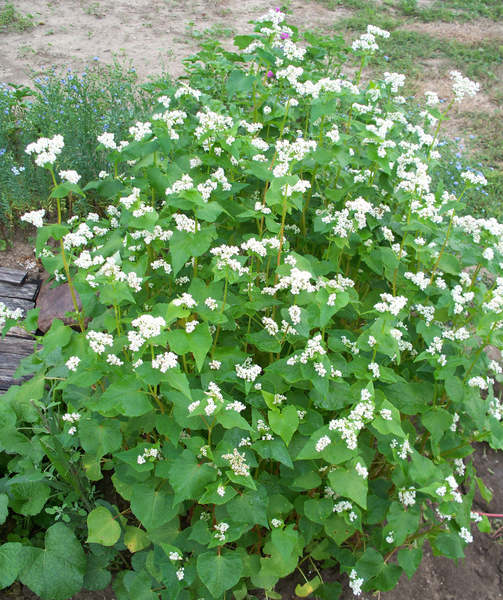 Cactus in Michigan?! Yes, they will survive and grow here. We put this one in the shed for the winter but otherwise it gets no other protection or care from the cold/snow. I called him Spike, but now there is more than one.
Cactus - Jun 29 2010 (1505K)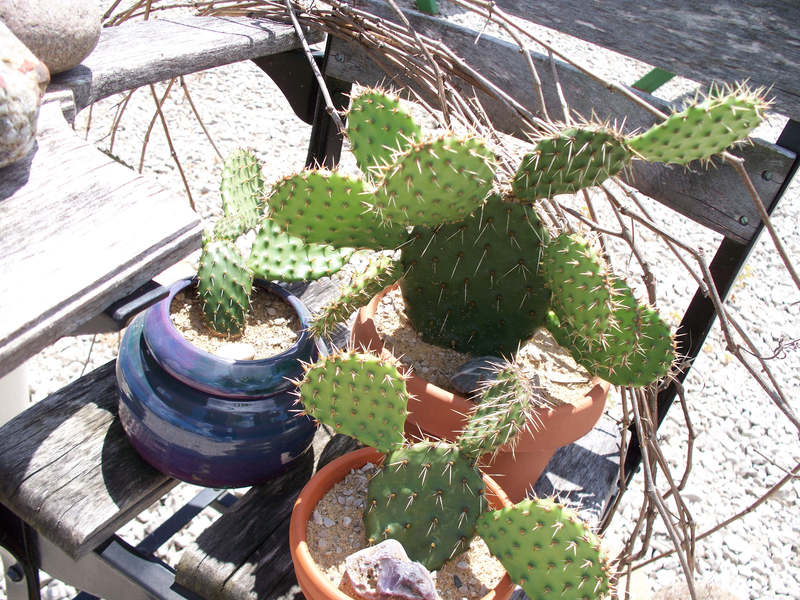 Blue alliums with various decorations about.
Blue Allium - Jun 13 2010 (1708K)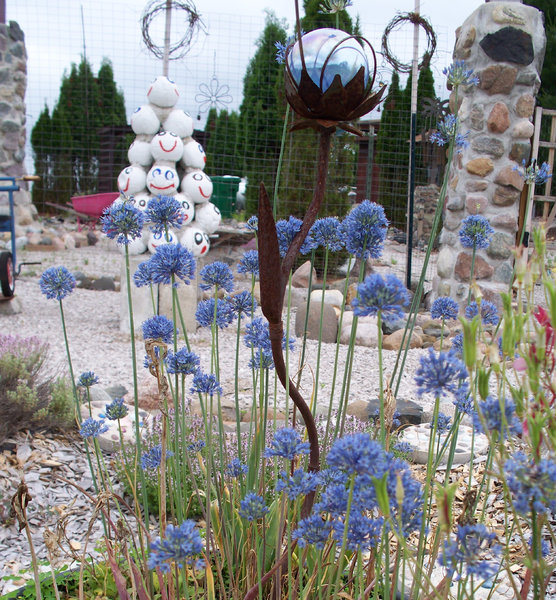 Clematis in the front garden.
Clematis - Jun 13 2010 (1226K)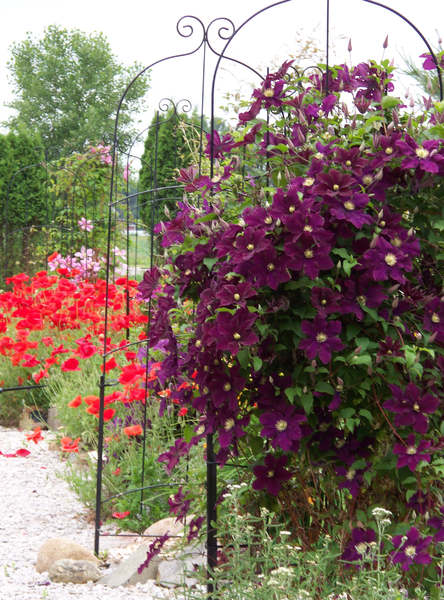 Poppies in the front gardens. These are growing in nothing more than rinsed crushed limestone mulch with whatever detritus has collected underneath it during the years those gardens have been in place. After they are mostly done blooming we gather the stalks and bury them in a garden (deeply enough that they don't sprout or get a whole new area going). The front is their domain. I try to keep them out of the rest of the gardens because they would take over very easily - even if they are so pretty.
Annual Poppies - Jun 13 2010 (1668K)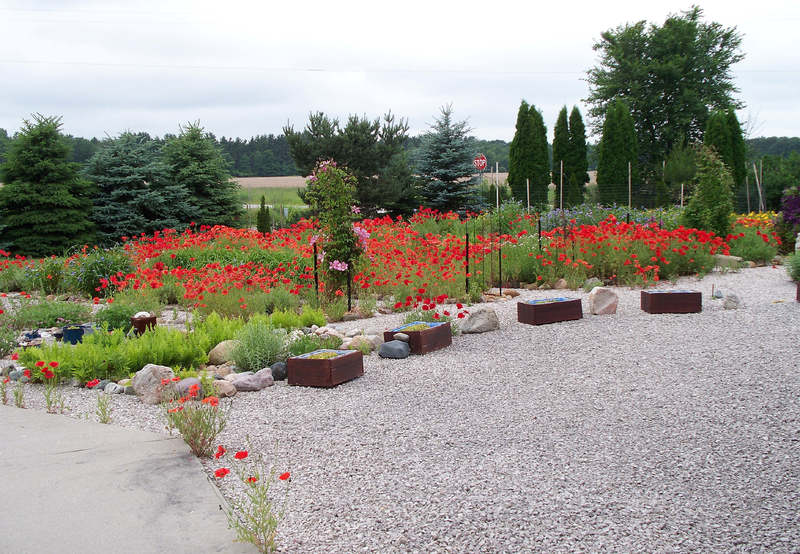 The horseshoe garden.
Horseshoe Garden - May 25 2010 (1512K)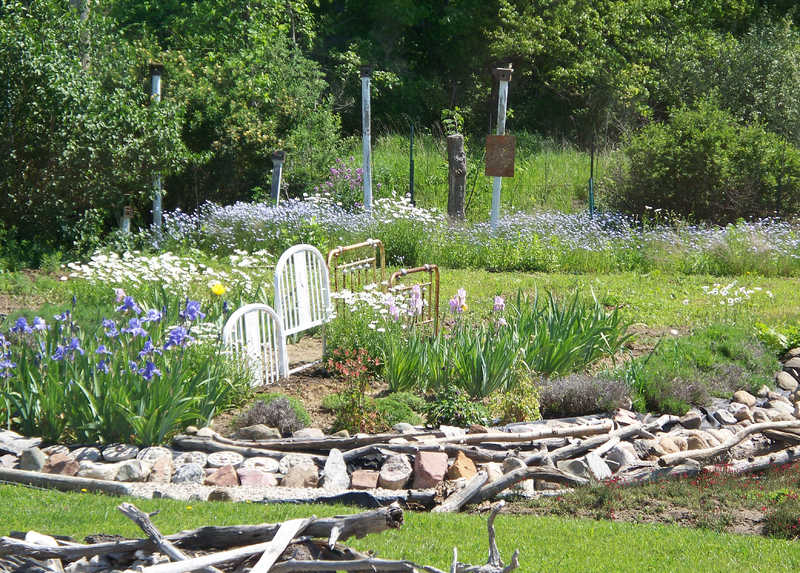 2009:
Cosmos can make a nice border or background.
Cosmos - Sep 9 2009 (2051K)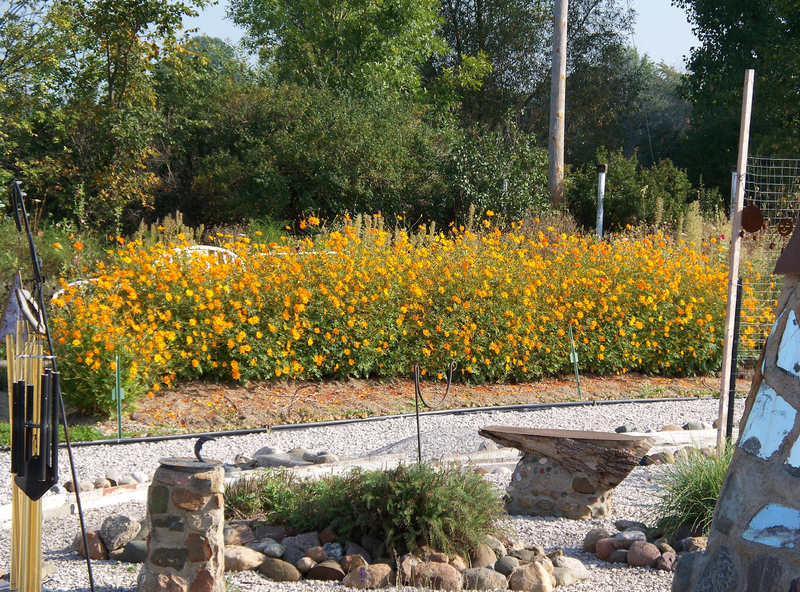 2008:
Allioop.
Purple Allium - Jul 7 2008 (1367K)
Yellow Lily.
Yellow Lily - Jul 5 2008 (970K)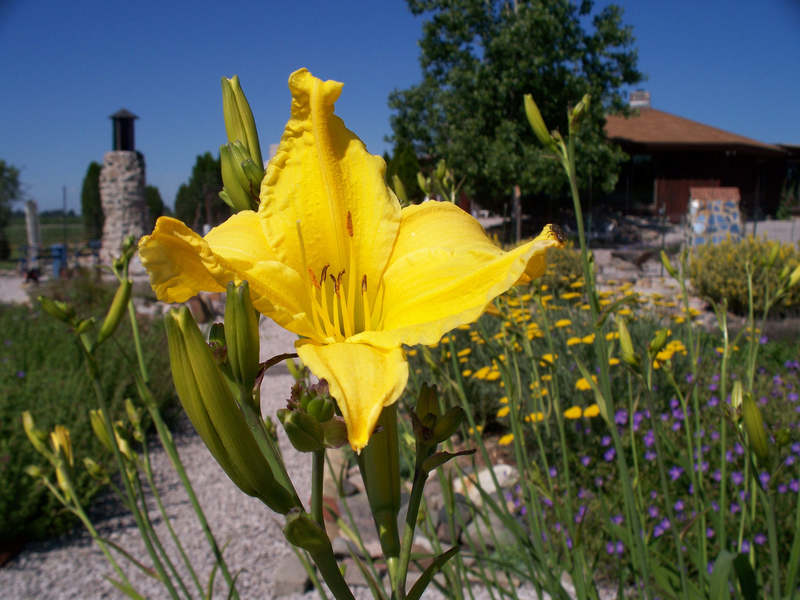 Orange Lily.
Orange Lily - Jul 5 2008 (1010K)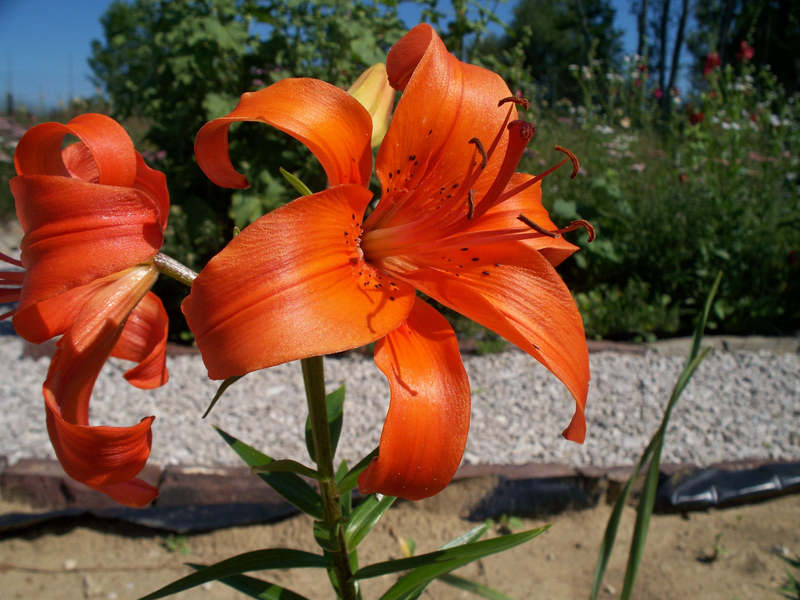 Layers of cool…
Yellow Layers - Jun 30 2008 (2171K)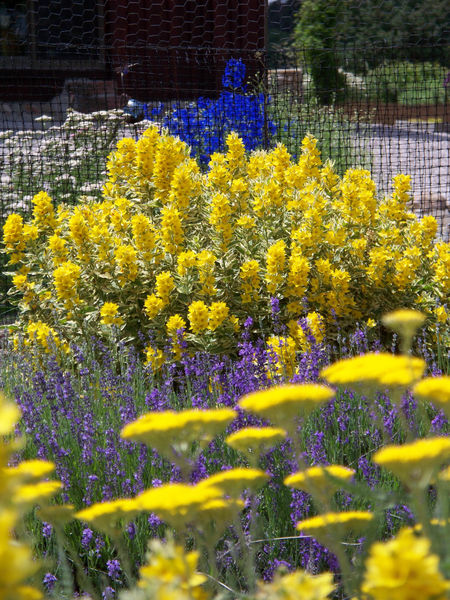 2007 AND BEFORE:
I don't have any pictures in this chapter yet, but a reminder note for me to get some selected, scanned and posted. This was the time before I was living here and had a digital camera. While records were kept and pictures were taken they are either hand-written notes or hard-copy pictures (going back another ten years or so?). It may be some time before I get this sort of project started or done, but I will keep a reminder here so that will mean a better chance of it happening. 👍 😄